And so the FA Cup pre-final scrimmage is over, and the carnage, damage, and adages will all accrue to Hull's side after a 0-3 demolition that suggests the actual FA Cup final should be little more than a cake-walk for the Gunners. It was all one-way traffic, wasn't it? Three goals scored. A clean sheet kept for the first time since 16 March against Tottenham. 58% possession. Players back from injury and finding the kind of form that propelled us to the top of the Prem: Ramsey, Özil, Koscielny...Yep. Ain't nothing left to do now but skip the formalities and announce Arsenal as the FA Cup winners.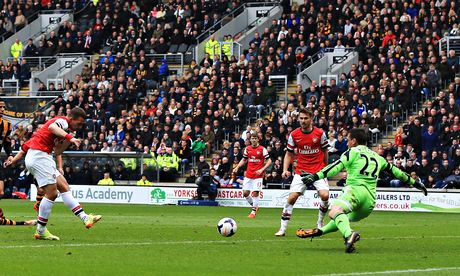 Okay, so it wasn't quite
that
easy. Were it not for a few nifty saves from Szczesny, not to mention the woodwork, we might have had a tougher time of it, at least in the early going. Hull had a fair few chances in the early going and will rue their inability to finish one or more of them off as Long and Jelavic (who are each cup-tied and can't play in the final) nearly netted, and it was Livermore who hit the post as Hull threatened yet again. We'd do well to close down those opportunities before they present themselves again if we have any hopes of winning the FA Cup, I'll say that much.
However, once the Tigers came up empty-handed on those chances, it seemed as if their momentum slipped through their fingers as well. Facing a resurgent Arsenal, and one as close to full strength as this squad has been since, well, early September, they just couldn't afford to squander the chances they had. With Ramsey and Özil back, and with Podolski finding the kind of form that endeared him to Gooners so thoroughly last season, any club would be hard-pressed to stem the tide. Özil carved out the chance that became our first goal, an almost Norwich-esque
pornogol di Wilshere,
receiving the ball on the right side and crossing it in to Cazorla at the top of the box, who deftly chested down and tapped into the box for the oncoming Ramsey, and all he had to do was chip Steve Harper to open the scoring. It was some splendid stuff that should remind us all of what we've been missing since Ramsey and Özil went out with their injuries.
Ramsey, it must be said, picked up where he left off, scoring the first and "assisting" the second and third, showing just how valuable he is and how much we've missed him. Apparently, he gets credit for an assist on the second goal, chesting down Giroud's cross only to see Podolski beat him to the ball to lash it home just before halftime. Similarly, the third goal came as Ramsey tried to finish off a cross from Cazorla only for Harper to make the save, coughing it up right to Podolski, who had little to do but poke it home. The announcers credited Ramsey with a goal and two assists, which might stretch the truth just a bit, but let's not let details get in the way of proper credit. Just try not to torture yourself with thoughts of what might have been had Ramsey not gone down in the first place. We all have our reasons and our doubts—what if Ramsey had been rested in December? What if we had found a replacement for him in January? Bear with me on this last one—what if we had been a little more supportive of him, a little less cruel towards him, a 12 or 18 months ago? Food for thought, that last one.
Whatever grist for the mill Ramsey's absence and resurrection create, one thing's for sure—we have found a form that bodes well for the run-in, having won three in a row for the first time since late January, and it's better late than never. With Everton slumping midweek against Crystal Palace, we're now back in fourth place, if only by a one-point whisker. Even their hugely symbolic win over Man U doesn't alter that fact. We now have just three matches to play—home against Newcastle and then West Brom before closing on the road against Norwich (who might just have the worst run-in in the Prem with trips to Old Trafford and Stamford Bridge before hosting us).
All in all, we look to finish strong. Even if it's not quite the finish we envisioned in January, it's far-better than the one we imagined in August, and perhaps spot-on with the one we started expecting more recently. Yes, we've come down to Earth after a glorious run, and there are some who will chastise us for "faltering down the stretch" when I think it's closer to the truth to marvel at just how long we fought the nearly irresistible forces arrayed against us. Take me in a time-machine back to August 2013 and offer me fourth place and the FA Cup, and I would've taken it in a heartbeat. We're now less than a month away from achieving that, not that we've actually proven anything yet, but each match brings us ever closer. Our magic number for claiming fourth place has fallen to nine—just nine points combined from those we claim and those Everton drop, and fourth is ours. One match at a time...
Last but not least, a quick plug: last year at around this time, I tore my ACL and MCL playing football. I thought my playing days were over. I had the surgery and, thanks to my physical therapist, and ready to get back on the pitch. More recently, my PT has committed to run the Chicago Marathon and is using the opportunity to raise money for Big Brothers Big Sisters, a mentoring program that helps at-risk youth bond with and learn from adults. If you're looking to donate to a good cause, here it is. Click
this link to visit the donation page
. Thanks!