With news that Spurs have announced Mauricio Pochettino as their next manager, the next, inevitable question is 'who will follow him to North London?' I'm less interested in how Pochettino will affect Spurs' style of play at the moment and more interested in who among his former players might make a move to North London (assuming along the way that they're looking to improve their lot in life, rather than degrade it. Many of Southampton's players are just starting to get noticed by their national clubs, and a judicious move could bolster both Arsenal's fortunes as well as their own. We do, after all, have a bit of a pipeline from St. Mary's already. If a few Saints are assessing their futures, why not extend an invitation to the Emirates?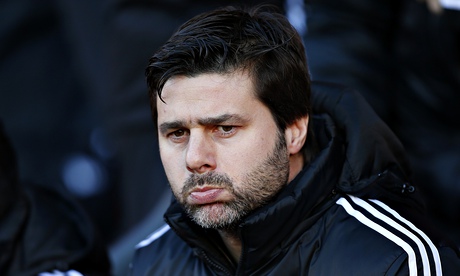 Already has the look of a Tottenham manager...
To be clear, though, I admire Southampton and would regret seeing them lose any of their key players. I would
love
for them to continue their rise in the Prem, even more so if it comes at the expense of Tottenham. If we can then pip them in their pursuit of, say, Luke Shaw or Adam Lallana, all the better. Rivalries aside, I couldn't say to such players that a move to White Hart Lane represents a significant upgrade in their prospects. The instability and chronic struggle to finish any higher than fifth hardly seems an enticement, not for young players looking to develop as players
and
pursue silverware. Players like Shaw, Lallana, Schneiderlin, and Clyne are young and looking to impress. They're just now starting to attract the attention of their national clubs, and a move to the right club in the summer might even burnish their reputations that much further. To say to Hodgson or Deschamps that you have signed for Arsenal is sure to raise an eyebrow if not juggle some lineups. I'm not sure that boasting of joining Tottenham carries the same cachet.
Of these players, we've previously been linked with Shaw and Schneiderlin. With Pochettino's exit, the rumors will only proliferate. Part of this is the silly season, part of it derives from Southampton's history of developing young players and selling them on (whether by choice or by necessity). Then again, the same could be said of Arsenal or Tottenham. The difference between us and Tottenham here is that we can legitimately claim to compete on many fronts for silverware, actually earning it from time to time (ahem), while qualifying for the Champions League as a starting point for expectations, rather than the Europa League as a hoped-for destination. If a player wants to play on a bigger stage and for bigger stakes, I daresay Arsenal emerges just a smidge ahead of Tottenham. No offense, Spuds.
More and more, Tottenham looks like a way-station, a rest-spot, a place to grab a cup of coffee while continuing on to points distant. Pochettino is, of course, their 11th manager in 17 years. For young players looking to develop, is their best bet to stay at Southampton under a new manager, follow Pochettino to Tottenham, or switch to Arsenal? Even setting aside my own biases, I'd have to go with a move to Arsenal. We don't yet know who will take over at Southampton. It's unclear how close Pochettino got with his players after just one year there. If player-tweets are anything to go by (something I've learned to play a little more attention to...), Luke Shaw tweeted that he "would like to thank Mauricio for everything he has done for me. Great manager, great guy and has helped me a lot. Wish him all the best." Thoughtful, if not heart-rending, from a guy widely rumored to be leaving the club—and who doesn't sound like he's following Pochettino anywhere anytime soon. Unfortunately, he's linked most closely with Man U, and Lallana's said be to chased by Liverpool. Of any Saints, the one to whom we're linked most often is Schneiderlin, which is a fine start. Let's hope that's what it is: a start.
Follow @woolwich_1886