I'm sorry to be the bearer of bad tidings, but what else can I do after a day like Monday's? We learn that Gibbs will be out a few weeks, Mertesacker did
not
travel to Turkey to face Beşiktaş, Sanogo has suffered a hamstring-injury, and Wilshere has a runny nose (brought on, perhaps, by smoking a few cigarettes or by having thighs whose circumference exceed that of his torso). On top of all that, we have to endure the indignity of seeing Cesc Fàbregas, prodigal son turned pariah, deliver not one but two assists in Chelsea's 3-1 thrashing of Burnley. What conclusion are we to draw other than we were miserable, miserly miscreants in turning up our noses at bringing him home?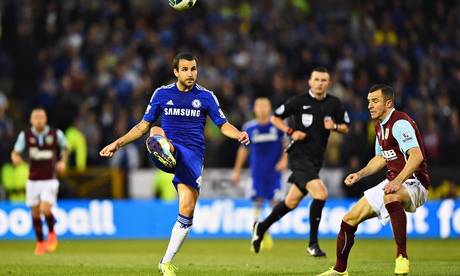 Defeating Burnley, after all, is no mean feat. After all, only a few select squads could lay claim to laying them low last season: Leicester. Middlesbrough. Brighton & Hove. Huddersfield. To have scored three goals against Burnley on Monday proves, once and for all, that Chelsea are
the
team to beat; more to the point for Gooners, Fàbregas is the one and only reason why they are that team to beat. There is no equivocating to be done here, no parsing of stats or results. We should've brought Fàb home, needs and fees be damned. His transfer-fee may exceed the market-value of the entire Burnley squad, but his performance against the indomitable Clarets gives the lie to the idea that we didn't need him. After all, he just sliced open an opponent with ruthlessness, creativity, and efficiency. Who wouldn't want him?
Yes, you see that Fàbregas got two assists in one match. You slap your head. Maybe you punch the dry-wall (look out for the studs, though). You imagine him leading the league in assists, Costa winning the Golden Boot, Chelsea winning the league. All of these could very well happen (items two and three, following those two assists, may have happened already, but I hope that your forehead, drywall, and knuckles emerge none the worse for wear).
More to the point, though, Fàbregas replaces a more-conservative midfielder who created goals and assists while also shielding the back-four to a greater extent than Fàbregas is known for being. Frank Lampard, by dint of his age and understanding of Mourinho's needs, played a less-aggressive midfield than Fàbregas is known for. Fàbregas played his way out of Barcelona by being unwilling or unable to commit to their system, getting too far forward and neglecting his role behind other players such as Iniesta, Xavi, or Messi, all of whom surpass him for seniority if not success. Who's to tell him that he must ignore his own predilections and hew close to the back-four, rarely if ever foraying beyond mid-field? If Guardiola couldn't do it, can Mourinho?
A significant portion of Chelsea's success last season came through Mourinho's preference for parking the bus, defending deep and in numbers (despite his financial superiority to just about every other squad he faced) and hitting on counter-attacks. While Fàbregas might be well-suited to the counter-attacking component, he might just expose Chelsea on the defending end. That vaunted midfield now sports Fàbregas, Hazard, Oscar, and Schurrle, none of whom is noted for his ability or interest in defending. Yes, they present an intimidating attack. However, the space available behind them is enticing. Yes, the addition of Fàbregas does mean that Chelsea will score more goals. However, it also means that Chelsea will concede more goals as well.
The devil will be in the details, of course. Does Fàbregas return to the Prem as an improved or diminished player? He's 27, and his best years to date were when he played for Arsenal, where he had freedom to roam. At Barcelona, he was asked to play a more-defined role, and he chafed and struggled even while facing less physicality, defensive intensity, or climactic adversity. At Chelsea, will he be given freedoms similar to those he had at Arsenal, or, under Mourinho, will he be boxed in?
Even if it's the former (improved), Fàbregas might very well sharpen Chelsea's attack, but he'd do so while exposing them at the other end. And if it's the latter (diminished), well, he'd be shorn of his best qualities, and he wouldn't be the first creative Spanish midfielder to inspire Mourinho's ire along the way. In either case, then, his return to London may add up to something a bit less than what his performance against Burnley suggests. In either case, though, he doesn't seem like he's the player he was in his last stint in London. He's older. Slower. Balder. Perhaps even jaded.
He's had his share of success since leaving Arsenal, and he hasn't had to work all that hard to enjoy them. How will he respond when the chips are down, when Mourinho's breathing down his throat, and he's facing down a defense far more-dogged and physical than any he's seen in the last three years?
Somewhere, I suspect that Arsène is looking at Chelsea's performance from Monday with a bemused smirk. Yes, Fàb "announced" his return to the Prem in fine fashion, and it won't be the last time he leads Chelsea to victory. However, something in me suspects that, like Barcelona, we at Arsenal determined that he as superfluous to our needs, and he was allowed to ply his trade elsewhere (even London) for good reason. Let's not let sentiment get in the way of strategy. He was once a very, very good player for Arsenal. That's not the same as saying he'll be the same for Chelsea. I hope not.