It's hard to go into Saturday's clash without suffering a certain
déjà vu
, a sinking feeling that the wheels will come off in drastic fashion as they did last season at the Etihad when we were so thoroughly demolished. Even if we maintain that we should have tallied a few more goals but for some dodgy offsides calls and that Citeh should have had a goal or two disallowed, the result stands. Our more-recent 3-0 victory over them notwithstanding (nor Stoke's 0-1 win at the Etihad), we still have to figure out how to stop one of the Prem's most prolific scoring machines if we expect to take something from the match.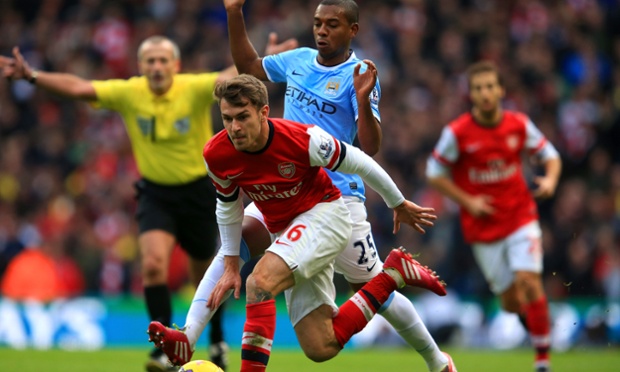 After that December debacle, it's easy to lose the devil in the details. After all, 6-3 is a pretty stark scoreline. However, an examination of those details could provide a blueprint for how to make the most of this encounter. I'm not saying that the blueprint will lead to a win, but it might just offer enough to slow and perhaps even stop the juggernaut that is Man City.
First, formations. In an era in which the 4-2-3-1 has dominated, it looks like both sides will go in with something completely different. At our end, it seems we'll again go with a 4-1-4-1 as Welbeck debuts in front of a midfield of Cazorla, Özil, Wilshere (or Ramsey, if available), and Alexis, with Arteta doing what he can to shield the back-four. Whether this amounts to a 4-2-3-1 in practice is another story for another day, at least in my book, as it's Man City's formation, a 4-4-2, that presents the threat. With Dzeko and Aguero up-top, we'll face a rare double-striker threat that may change how our defense operates; Kos and Per may not be able to play their usual roles of roamer and repeller. In other words, with two attackers to track, both Kos and Per may be forced to play something closer to man-marking instead of Kos playing passing lanes and making tackles while Per hangs back to mop up. Despite last December's score-line, we seemed to manage this tolerably well, as City's first three goals came on a set-piece, a piss-poor clearance, and an admittedly splendid interplay between Toure, Zabaleta, and Negredo.
And this brings me to personnel. Two of those three may not even be available; Negredo has gone out on loan to Valencia, and Zabaleta faces a late fitness test. More to the point, though, is
our
personnel, namely one Thomas Vermaelen. Once Koscielny was stretchered off, Vermaelen came on, and the wheels came off. I'm not suggesting cause-and-effect, but it seems notable that the game turned on its head shortly after Vermaelan's appearance—as the formational challenges described above may have been exacerbated by the less-familiar pairing of Vermaelen and Per. City's third goal came when a bad clearance fell to Fernandinho, who was too fast for Per (surprise) and Vermaelen was too late in closing from the left. Far be it from me to kick a man when he's down, but Vermaelen's positional awareness again let him down on City's fourth, as he dropped off of Silva, perhaps anticipating a shot but leaving Silva open at the edge of the six to slot home. That Silva could slip in between him and Per is further evidence to corroborate the dilemma posed by this 4-4-2, exacerbated by the introduction of a centre-back unprepared to play a more-conservative, positional role against those two forwards.
If there's an advantage to be found in our 4-1-4-1, it might be in the numerical superiority it gives us in the midfield. Our five, whether they're playing the 2-3 we're accustomed to or this newer 1-4, might be enough to negate the four that City deploy. Whether we do so through merely clogging up lanes or through aggressively intercepting and counter-attacking remains to be seen. Our wider midfielders will have to track back, though, and this is a role that neither Cazorla nor Alexis thrive in. However, if they can harass and deny space to Na$ri and Silva, this could go a long way towards negating the more-forward threat posed by Dzeko and Aguero. Simply put, if those two don't get the ball, they don't matter. If Cazorla and Alexis can deny Silva and Nasri space or time, while also pinning them back on going the other way, so much the better all around.
Speaking of Cazorla and Alexis, while also maintaining a certain consistency as regards former Gunners, the potential absence of Zabaleta not only reduces pressure on our left-flank, it offers more opportunities for Cazorla (and Gibbs) to make hay against Sagna. Much as I loved the man, he's moved on, and his inability to both get forward
and
track back suggest that we could do a fair amount of business on that side, especially with Toure's increasingly jaded attitude towards defense and Demichelis's "at least I'm trying" approach. On City's right-flank, then, we have two ageing players (Sagna and Toure), one who might literally be allergic to defending (Nasri), and another whose claim to fame is his effort (Demichelis). Against the likes of Cazorla, a fresher-than-daisies Özil, and a hungry Welbeck, I have to say I like our chances.
This is not to underrate the goings-on over on the right, where Debuchy, who has impressed, and Alexis, who has tantalized, will face of against Nasri, Kompany, and Kolarov. As mentioned above, Nasri may look to the antihistamines more readily than he takes to dropping down to defend. Behind him, then, we have Kompany, increasingly injured, and Toure, increasingly diffident. The gaps that this creates between defensive midfield, centre-back and full-back practically
beg
for the likes of Alexis or Welbeck to run into. In particular, the versatility that Welbeck offers might just create enough havoc for Cazorla, Alexis, and others to exploit. Without Giroud's fairly-predictable vertical runs forcing teammates into similarly predicable channels, we might see a more-fluid attack that makes the most of City's weaknesses at the back.
At the other end, of course, we have to ensure that Per and Kos are not overrun by Dzeko and Aguero. This is not a tit-for-tat task, as the likes of Gibbs, Debuchy, and Arteta combine to deny service to those forwards, recycling possesion to Cazorla, Özil, Wilshere, and Alexis, who in turn pin back City's midfield and defense and create chances for Welbeck, who I'm sure is eager to make good on his move away from Manchester. Should factors like these all come together, it could to another result more similar to August than to those in March or December.
What's your prediction? Can we reprise the 3-0 win over City in the Community Shield, or will we regress to the Excreta at the Etihad?