Be careful what you ask for, they say, for you just might get it. After several years in a row of drawing against dominant, top-shelf sides, it seemed we had finally drawn a side we could easily see off: AS Monaco, they of the four goals scored in the group-stage, a club that asked a 34-year old Dimitar Berbatov to lead its offense after loaning out Radamel Falcao, an offense so woefully inept that it has scored the fewest goals in Ligue 1 and only outscored three other clubs in that Champions League group-stage. Against this offense, we somehow found a way to repeat our own performances in this competition over the last three seasons, losing the first leg in embarrassing fashion and forcing ourselves to mount a heroic comeback in the second. Bold proclamation time: we're going to pull it off.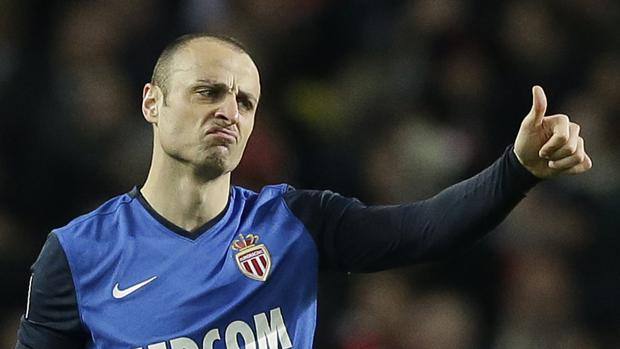 effin' Berbatov...
I'm not going to draw any lazy comparisons between this side and the others we've faced in previous seasons. AS Monaco may not rise to the level of Bayern or AC Milan (of 2011-12), but they're no mugs. I'm certainly not going to suggest that the gap in quality alone will allow us to waltz into this second leg and conjure victory from the ashes of defeat. This is, after all, a squad that has held high-flyin' Lyon to three goals in as many matches and PSG to one in their only clash to date. It seems our lads read the headlines but not the fine print.
The headlines, of course, focused on how inept Monaco's offense was. They offer so little going forward, as the conventional wisdom suggested, that all there is to do is to score a goal and let the rest work itself out. For long
, long
stretches, it seemed as if that was our game-plan—well, at least the latter part. We seemed content to just let the match sort itself out. We were hardly blindsided or blitzed as we had been by AC Milan or Bayern; it seemed as if we had simply offered our opponents a chance, and they took it.
Let's admit that the first goal came through a stroke of luck—but the harder one works, the luckier one gets. Kondogbia's shot was a bit ambitious, coming as it did some 50 yards from goal, but the deflection it took off of Per (who shied away rather than squaring his body) was apparently just enough to leave Ospina flat-footed, and from there, the prevailing narrative took over. No longer were we looking for a winning goal against a stubborn side, we were desperately chasing an equaliser. Coming out after halftime down 0-1, surely, Arsène left little doubt as to our needs against his former club. Something must have been lost in translation because, shortly after halftime, we found ourselves in a woefully familiar situation: eight men committed to attack with only Kos and Per in our half. As a Monaco attack developed, Mertesacker inexplicably left his man to go in for a tackle, leaving Kos horribly exposed. Sure enough, Mertesacker's gambit failed, and his man—Anthony Martial—calmly collected the pass and found Berbatov with only Ospina to beat, and beat him he did.
By this point, it was all but over. Yes, Ox found a goal through a bit of individual skill, but once you concede two goals at home at this stage, you can pick up the prayer-books. That Monaco added a third, thanks in large part to Ox himself getting dispossessed, is almost irrelevant. We'll now have to go in to the Stade Louis II with an urgent mission: win by at least three goals or we're done. On its face, it might have been better to face off against the likes of Real Madrid, Bayern, or Barcelona, against whom we could at least say, "well, what can you do against such a squad?" Monaco are a quality outfit, albeit of a grittier, less-glitzier type, and so the embarrassment of succumbing to them—at home, no less—cuts just a little bit deeper.
Then again, there's a silver lining to be grasped. Against those far-more illustrious, indomitable sides, we mounted comebacks just as famous as the occasion demanded. Lose the first leg at San Siro 4-0? Get a stirring 3-0 result in the second leg. Lose another one, this time at home—1-3, for those with an eye for parallels—and go into Allianz Arena and peg them back 0-2 for another almost-famous comeback. True, last season's was a bit less momentous but still merits a mention. Then again, for as famous as each of those second legs were, they each came up just short. Long story short: we haven't good enough to dig out of these holes in the past, but I still believe we can dig out of this one.
So we lost, thanks in large part to an unlucky first goal and to our own wastefulness and bad luck. With a bit of better finishing from Giroud, Welbeck, or Walcott, we'd have a very different narrative. Instead, we have a very unlucky goal conceded, followed by some horrific defending on the other two, leading to an infamous result. None of this means that we're done—not by a long shot (pun, perhaps, intended). Yes, we do have our work cut out for us. That's nothing new. If recent history is any guide, we've done quite well at carving out chances for ourselves. For as strangely diffident and disinterested as our XI seemed in this first leg, I fully expect those who represent us in the second leg to summon the memories of those other second legs and go one better.
It's high-time we stop settling for Champions League qualification as a goal or destiny in and of itself. Despite Wednesday's result, we still have a chance to advance. Dammit, we very nearly overcame deficits just as large and larger against mightier opponents. Who's to say we can't take the next step?
Set aside your provincial squabbles—Wenger in, Wenger out, vat
ever
—and get behind the club. Is this the first time it's been knocked down on its arse? No. Will it be the last. Again, no. Again, though, will this be the first or last ime that the club has risen up against expectations to achieve something memorably? Again, no.
This ain't over. Monaco, you've won this round. Something in me suggest that you haven't won the war.