So we've come through another win, one good enough to keep us in third place for at least another few weeks as the Prem by and large takes a break until the weekend of 14 March. We won, but so too did everone else in the top eight positions, and so the table will remain unchanged until then. For now, we can enjoy another match in which we again scored twice—the eleventh time we've done so in our last 12 outings (the exception being that abomination against AS Monaco...). As we approach the run-in, we do seem to be rounding into form, at least in the Prem if not the FA Cup. With just ten matches left to play, we're
just
ahead of a pack of rivals in a mad-dash for third place—with an eye on third. A closer look at our squad suggests that we have it in us to fend off that pack and perhaps close in on second.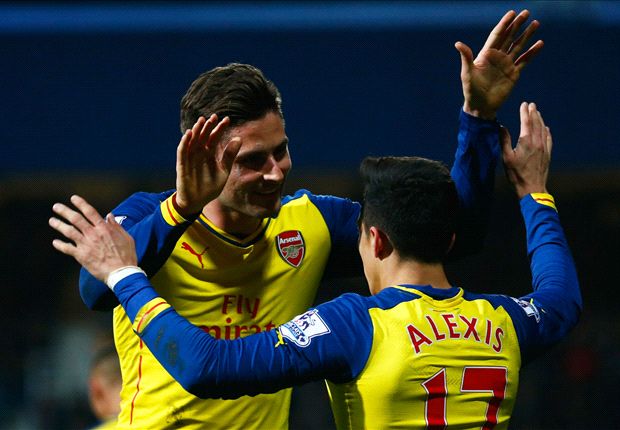 You score a goal, I score a goal, and we'll score a goal together...
In what appears to be the most alarming news, new man Gabriel was subbed off in the 38th minute with what Arsène referred to as a hamstring injury that will sideline him for up to three weeks. All quips about "Arsenal DNA" aside, there's something in here to suggest that this could have more to do with restoring Mertesacker to the starting line-up than it does with the actual condition of Gabriel's hamstring. This would hardly be the first time we've seen an injury to one player restore another player to the starting line-up. After all of the drama of Mertesacker being dropped in favor of Gabriel, there's a part of me that suspects that this injury offers a convenient way for Arsène to restore Mertesacker while bypassing the uncomfortable questions about form. After all, a significant factor in Mertesackers' uneven form [cough] probably derives from the heavy minutes he's logged and the players he's played with. One, he's gone for long stretches without Koscielny; two, he's had to pair with Chambers, Debuchy, and Monreal as out-of-position CBs; three, he's had to support Chambers and Bellerín; four, he's played intense football almost non-stop for club and country since August 2013. If he needed a week off, so be it. Let's hope then that Gabriel's hamstring is the fig-leaf that allows Mertesacker a much-needed breather.
On to Alexis. The hand-wringers and knickers-twisters had been in a tizzy over the fact that Alexis hadn't scored since 10 January (nine matches, for those who enjoy that sort of thing). As with Mesut Özil, those who were wringing those hands and twisting those knickers were conflating statistics with contributions. For one, let's admit that Alexis has played many more minutes from December through February than he ever has before, and he's done so under far-more pressure as well. Playing for Barcelona, he could count on (a) a much-milder climate, (b) far less scrutiny, and (c) a lengthy lay-off from competitive matches. Those factos aside, his critics overlook the fact that a player can contribute in ways that don't appear in the scoreline. For our first goal, for example, Alexis slalomed through the QPR defense before laying off a pass to Gibbs, who fluffed his shot a bit. Key pass for Alexis? Sure. Assist? Nope. Giroud swoops in and nabs the goal, but Alexis's hard work might go all but unnoticed. For the second, though, Alexis left no doubts, flummoxing several defenders before beating Green at the near-post. The goal should quiet his critics a bit, but because those critics seem to focus so exclusively on goals and assists, it's only a matter of time before they redouble their attacks. So it goes.
Speaking of goals, Giroud delivered his fifth goal in as many appearances, which would ordinarily be enough to quiet his critics, but in world in which one most occupy one cleary staked-out position, devoid of nuance or subtlely, a player is either utterly worthless or totally sublime. Miss a few chances, regardless of the skill and technique required to consummate? Worthless. Bag a brace, regardless of the contributions of others? Sublime. So it may be with Giroud. His goal came through a bit of fine work and an intelligent run through the box as he watched Alexis operate on QPR's right flank. As the play developed, though, Gibbs made an assertive run and Giroud aborted his own run to see what Gibbs would do with the ball. Gibbs's shot was not the best, but Giroud was right where he needed to be, and beat Green with a calm, left-footed shot. For his defenders, it's further evidence of his savvy; for his critics, it's further evidence of his dumb luck. Never the twain shall meet, it seems. Is he striker we need to deliver us to the top of the Prem? Clearly not. Is he a Bendtner-Chamakh retread? Just as clearly not.
Time is running short. However, knowing now what you do about the injuries we've had to fight through, would you have predicted that this squad would find itself third behind only the maniacally-spending Chelsea and Man City and ahead of the manically-spending Man U and Liverpool? Even with those injuries, we have more than fighting chance. We're not squabbling and clambering to get to fourth; we're positioned to solidify if not build on our current third-place position. We might even be gathering strength for the run-in. Imagine that...