We're coming to the end of another interlull, so far relatively unscathed, with little-bit niggles to Welbeck and Ramsey among the worst of our worries, but with accolades galore for Gunners left and right. By all accounts, it's been a tolerably-tolerable interlull, with no serious injuries to hobble us and with a bit of momentum for all involved. Goals have been scored, goals have been denied; most importantly, injuries have been avoided. Last I checked, that's the whole point of an interlull, isn't it? This one did carry with it the impetus of Euro 2016 qualifiying, but 'round these parts, our first priority is in seeing the lads come home hale and hearty. With that in mind, let's see how they've done so far...
We won't bother with loaned-out players (sorry, Podolski, Campbell, and Akpom...). Our focus is on our first-team regulars and the wear-and-tear they'll endure while serving their respective countries. To wit: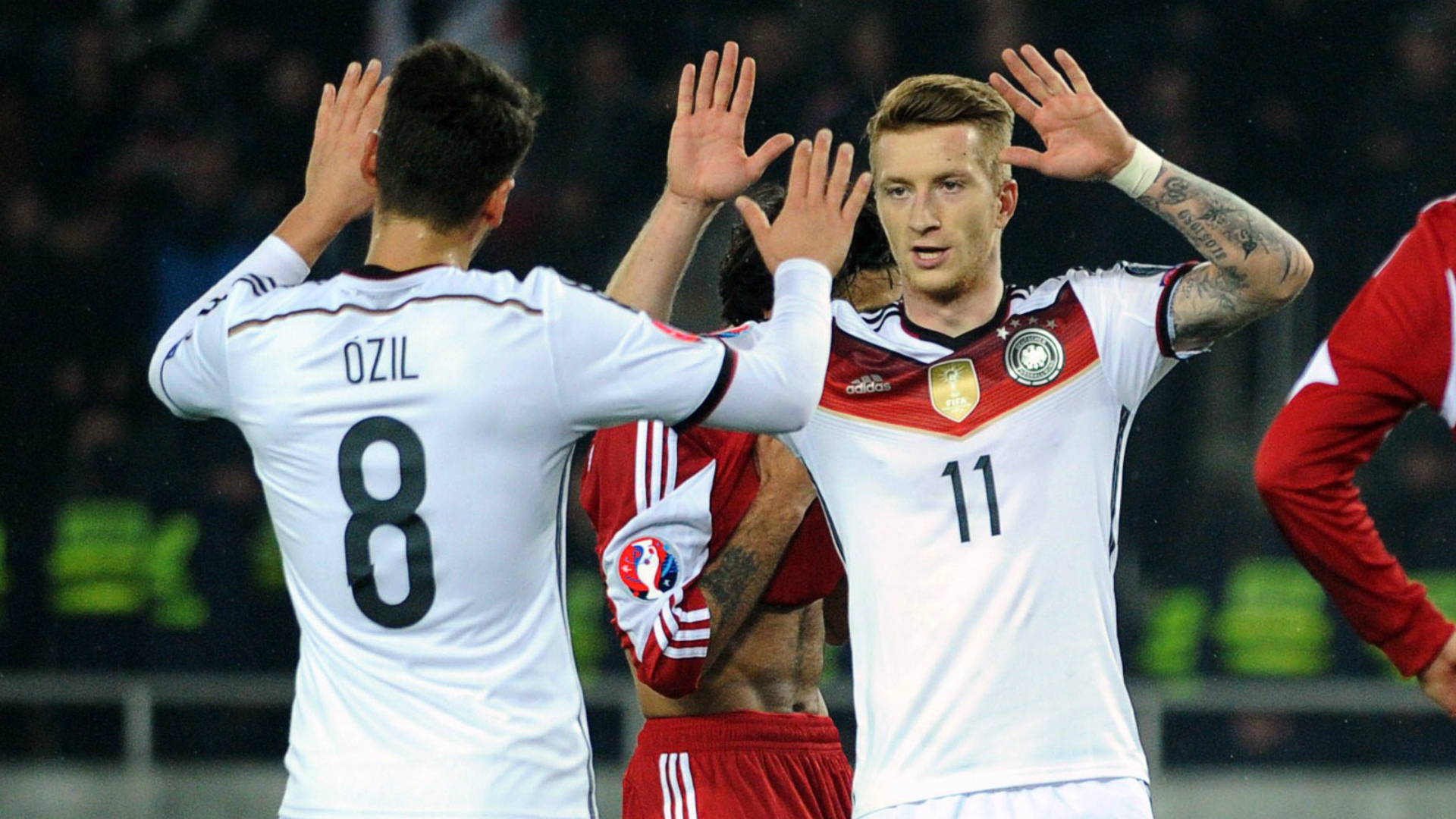 "Yes, Marco; we could celebrate like this more often...if you come to London!"
Mesut Özil: played a full 90' against Australia in a 2-2 friendly draw and again against Georgia in an 0-2 win (Euro qualifier), this time delivering a sumptuous assist for Thomas Müller, complete with a lookaway nutmeg and intelligent movement off the ball.
Wojciech Szczęsny: stayed on the bench to watch Fabiański help Poland to a 1-1 draw with Ireland in Euro 2016 qualifying.. By all reports, Szczęsny sustained no injuries.
Alexis: played 45' in Chile's 0-2 loss to Iran (friendly) and played the full 90' in Chile's 1-0 loss to Brazil (friendly) at the Emirates. He looked lively and incisive but not dominant enough to change either match's outcome.
Gabriel: an unused sub in Brazil's 1-0 win over Chile at the Emirates and again in Brazil's 1-3 win over Brazil (both friendlies).
Laurent Koscielny: played 90' in both of France's matches, a 1-3 loss to Brazil (friendly) and a 2-0 win over Denmark (friendly).
Olivier Giroud: played 90' and scored France's second goal in the 2-0 friendly win over Denmark and then made a late cameo in the 1-3 loss to Brazil.
Aaron Ramsey: he scored and assisted in Wales' 0-3 win over Israel, but he did seem to sustain a groin-injury along the way as Wales leapfrogged Israel in Group B.
Tomáš Rosický: he played the full 90' in Czech Republic's 1-1 draw at home to Latvia (Euro qualifier) and may miss the trip to play Slovakia on 31 March (friendly).
Kieran Gibbs: called up but didn't play against Lithuania (Euro).
Theo Walcott: was an unused substitute against Lithuania (Euro).
Danny Welbeck: earned himself a MotM for his goal and assist in England's 4-0 win over Lithuania.
David Ospina: minded the sticks comfortably in an 0-6 win over Bahrain (friendly).
Santi Cazorla: subbed on at 74' in Spain's 1-0 win over Ukraine (Euro).
Now, we're not quite in the clear, as there are a few matches yet to be played. Thus far, though, the early signs are good. Welbeck and Rosický seem to have been pulled from their respective matches, while only Ospina's Colombia and Cazorla's Spain still have friendlies to play. Is it too much to ask that we emerge intact from this week's interlull?

At a risk of counting eggs before they hatch, then, we could and should come out of this international break with a bit of momentum, and, let's face it, we have a vital Prem match to prepare for on Saturday against Liverpool, one that could go a long way towards solidifying our top-four (two?) statuts while denying those Scousers once and for all.

While there are a few more matches to endure, the returns thus far are encouraging. Let's hope that the remaining matches hew close to that pattern as we prepare for a return to Prem action!