Are you basking in it? Is your skin tingling, your throat aching, maybe the room still spinning? I know we have some work yet to do, but
wow
, does it feel spine-ticklingly good to be a Gooner today. I don't know if I could have penned a better script: drawn against Man U at Old Trafford. The Dutch Skunk gets scratched because of a little bit niggle in his personality (or was it his ankle?). We soak up some early pressure, find the first goal, and start to settle in—only for Rooney to nab an equaliser minutes later, his third goal in as many FA Cup matches against us. From there, squeaky bums and melvins set in...until Welbeck—Danny 'effin Welbeck—pounced on a lazy pass from Valencia, beating de Gea to it and coolly putting it home to give us the lead. It was tense and it was nervy, but we earned this one. We'll visit Old Trafford again, so I'll keep my boasts to a dull roar. For now.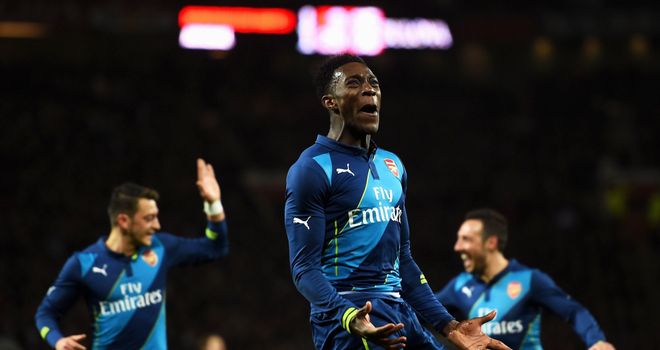 What is going on with this squad? First, a confident, commanding win at the Etihad. A few weeks later, a sloppy, diffident loss at home against Monaco. Now, this, a gritty, determined win at Old Trafford. This marks the first time since 2006 that we've beaten both Manchester clubs in one season, and the first time we've won at Old Trafford in our last ten trips. Ordinarily, I don't like to dwell on such track-records; after all, we're not playing against the Man U of 2007 or 2010. We were playing against the current squad. Then again, shattering that track-record to smithereens feels pretty damned good.
At our end, just about everything seemed to click. Despite the determination and energy of the home-crowd, we withstood the pressure as wave after wave of early Man U attack slammed up against our defense, which bent but wouldn't break. When Özil found an opening in the heart of the Man U defense, it felt almost like a let-down when he didn't plunge into the box to shoot, opting instead to lay off to the Ox. The contrast couldn't have been sharper. Ox took the ball and made a beeline into the area, beating four or five defenders before laying off to Monreal (who had given the ball to Özil in the first place), who coolly collected it and slotted past de Gea.The equaliser was well-earned, with Di Maria's cross finding Rooney, who nodded home sharply past Szczęsny, well-positioned but helpless against the header.
Nevertheless, it felt like things might actually break our way. Coquelin was going toe-to-toe and chin-to-chest with Fellaini (getting a bloody nose five minutes in for his efforts), but he seemed to win just about every single duel against the bludgeony Belgian, all but negating his would-be impact on the pitch. The tenacity that Coquelin brings to the squad has been a key-ingredient to our results of late. If he can just learn to temper that tenacity with a drop of discretion, well, we might just have the defensive midfielder we've been pining for for some time. We'll take a closer look at that another day.
Now, on to the gloating and boasting.
Danny. Effin'. Welbeck. Yes, he got the winner, but we'll come back to that in due-time. He went into Old Trafford for the first time since he left the club he'd loved since childhood and he emerged as the conquering hero. Pause for a moment to savor the contrast. That long-adored club saw fit to jettison him in favor of the (apparently) sexier and more-productive Radamel Falcao. Falcao was "loaned" to Man U for £16m, yet he wasn't named for this vital clash. Welbeck, deemed surplus to needs as a result of the Falcao loan, was sold to Arsenal for a £16m transfer-fee. For Welbeck to go into Old Trafford and nab the winner is almost too much to explain. The symbolism is too
dense
. Suffice it to say, his celebration, against the club that all but kicked him to the curb, is almost too ironic. When Valencia's back-pass to de Gea was just a bit too lazy, it was Welbeck, the tireless, industrious Welbeck, who pounced on it, tapping it past de Gea before blasting it home into an empty net.
Normally, a player in this situation shouldn't celebrate. Witness our own Aaron Ramsey after he scored against Cardiff. He offered a subdued "Ayatollah" celeberation to acknowledge his time with the Welsh club. We'll set aside a comparison against van Persie's celebration—it was, after all, his third appearance against us—but Welbeck's does deserve a brief dissertation. By contrast with Ramsey and van Persie, Welbeck was shunted off. Cast aside. Consigned to the rubbish-bin. The same can not be said about the Welsh Jesus or the Dutch Skunk, each of whom saw and seized a chance at greener pastures. With that in mind, Welbeck's celebration should be seen in a different light, one that shines on his frustration at his former club and on his (admittedly uneven) progress with his current club. He was marginalized, figuratively and literally, forced to play as a winger. The delicious irony of his goal is that it came in part because he was played through the middle—against his former club. Mmm-
mmmm.
That's irony almost as tasty as bacon.
Al
most.
So we'll face off in the semifinal against either Bradford (unpleasant memories) or Reading (memories more-pleasant). Meanwhile, Liverpool have to travel to Ewood Park for a replay against Blackburn, the winner to travel to Villa Park to face Aston Villa. This is not to suggest that our path to glory is now paved with gold, but it does state that we've taken a dramatic next-step towards defending our status as cup-holders.
Looking down the road, though, this result enhances if not exacerbates the important of our visit to Old Trafford on 16 May. If nothing else, we might have to squeeze in a rescheduled visit from Sunderland. Aside from that, the clash with Man U could carry significance for top-four positions. As it currently stands, we're still a point above them, but we've now added at least one more match to our list while erasing the same from Man's. Should we find a way to rebound against Monaco, and should Man U go on a run (shorn of any other distractions), we could very well find ourselves in a dogfight for fourth place.
We'll revisit that sort of stuff later. For now, celebrate the fact that we defeated Man U. At Old Trafford. In the FA Cup. It looks like it might just be another barren season for Man U. We've done as much as we could in this competition; here's hoping that we can do as much again in mid-May.