In last season's Annihilation at Anfield, Liverpool needed but twenty minutes to overpower Arsenal, scoring four goals in that span in a performance that seemed to lay waste to our entire campaign, whether in the Prem, Champions League, or FA Cup. Then again, we did bounce back well enough to beat Liverpool a week later. Fast forward to this past Saturday, and we needed just eight minutes to overrun Liverpool, scoring three times in
that
span to blow the game open. Heck, were it not for two vital saves from Mignolet, it could have been 2-0 just four minutes in. Whichever way you slice it, we eviscerated Liverpool, who absolutely needed three points—or, failing that, a gutsy performance—to keep their flickering Prem and Champions League hopes alive. Against us, they could muster up neither, and look more like roadkill than rivals.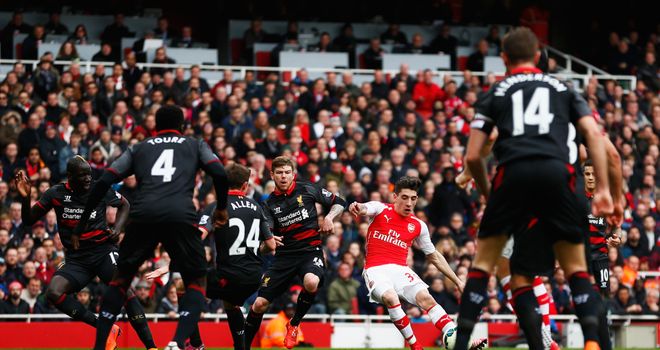 We came out aggressively, playing both a high line and pressing deep into Liverpool's third, and it was working. They couldn't clear the ball without it going straight to a Gunner who promptly relaunched the next salvo. Cazorla's sharply-struck shot from an acute angle tested Mignolet, who pawed it just well enough to keep it close; minutes later, Ramsey's direct shot forced Mignolet to cough up a rebound, but Touré beat Cazorla to it to clear. We were pouring forward in numbers, and to say that we had Liverpool on the back foot is a bit polite.
Then again, it wasn't all one-way traffic, as Liverpool climbed back into it about 15 minutes in and might have had a goal for themselves had Sterling decided to disprove his own midweek remarks. As it was, he was a step off the pace literally and figuratively all afternoon. He's 20. His brightest days are ahead of them (it's up to you to decide if I'm implying that he should leave Anfield...). Sterling is but the scapegoat, though, for a squad-wide issue: no one in the Liverpool XI could deliver a moment that mattered. Aside from Mignolet's opening-minute saves, this was not the effort of a squad capable of closing the gap on those above them. Man City, still to play on Sunday, are now seven points clear in fourth place. Mathematically, it's still possible for Liverpool to finish fourth. Mentally, though, it just doesn't look like they're in it. Gerrard and Skrtel's stamps last weekend. A toothless performance on Saturday (I promise that's not a reference to Suarez. Scout's honour). It looks like we might have the top-four teams arranged, but there's still some jostling yet to be done.
We've now won seven in a row and are far-and-away the hottest club in the Prem. Yes, we have to attach an asterisk to our current position on the table, pending Man City's Monday visit to Selhurst Park, but it's getting hard to resist the notion that we're still merely gathering strength. To wit, this was the first time we had no one injured going into the game since, well, forever. Sure, Wilshere, Debuchy, Diaby, and Arteta may not be match-fit yet, but they played midweek. Yes, Koscielny and Ramsey limped off in the second half, but we were up 3-0. Rather than be forced to play through the pain, we had the luxury (and Arsène the wisdom) to take them off. Fancy that.
So dominant were we that no less an authority on matters than Michael Owen started to run out of superlatives as he described how thoroughly we dominated his former club. No, it was not without its head-slappers and bum-clenchers, but it was still full of verve and vigor. We now have just seven matches left, seven chances at solidifying our tenuous hold on second place or at closing the gap that separates us from first. Yes, Chelsea won, but they hardly inspire or intimidate with their methods.
For us, there were times when it felt like we were exorcising a few demons and avenging past travesties. There were times when it felt like we were punishing an upstart rival. And then there were times when it looked like we were looking past the squad in front of us and sending a clarion-call signal of intent. Have we left ourselves enough time, however, to answer our own call?
Thanks, as always, for your visit, and add your two cents to the comments-section, and don't be afraid of a shout-out via the twitter, reddit, or facebook links below. 'Til next time...