"A tie is like kissing your sister," as Eddie Erdelataz, coach of the U.S. Navy's football team, is credited with saying back in 1953 after a scoreless draw. He's surely not the first to have said it, and yet he goes down in history for having said it. Feh. Fast-forward 50-odd years, and here we are, another scoreless draw. Even if it was punctuated by a few moments and spells of madness, we're left with a similar feeling. Sure, it's a point kept, but it's also two points dropped. Were we playing one of the most expensive squads in history, one eyeing up a Prem title? At times, it felt like we were facing off against an overmatched, outspent side in the early rounds of the League Cup. So we failed to score against Chelsea. No shame in that. The real shame lies in Chelsea's method.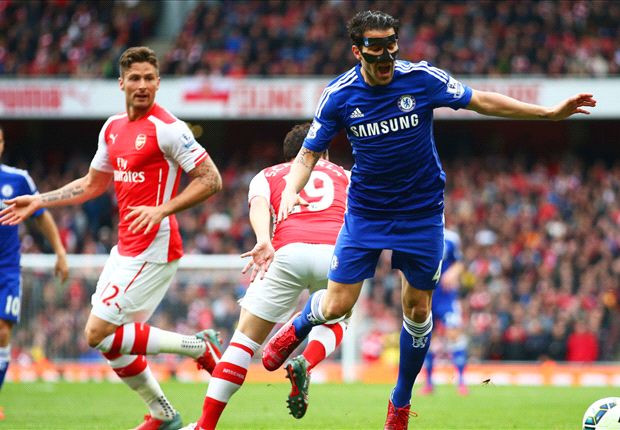 I know, I know. We've been done this road before: it's cynical but it gets results. There are no points for style. Arsenal had its own period of boring football. And so on. None of that furthers the discussion. All of us—whether we support Arsenal or Chelsea—knew what to expect, and we got it. Heck, we even got a few bonus moments when Chelsea actually dared to attempt to score. Fàbregas, hiding behind a mask, delivered a well-weighted 40-yard pass to Oscar, who tapped it over the onrushing Ospina only to be obliterated. It was a sequence reminiscent of Chelsea's second goal from the opposite fixture back in October, only this time, we squelched it, with Bellerín heading it clear while Oscar lay prone on the pitch.
Why was he allowed to continue? He was clearly concussed. As he lay there, his arms flopped languidly and he seemed disoriented, to put it mildly. Mourinho would not be the first manager, nor would he be the last, to let a player continue despite such clear symptoms of a concussion, but it's hard to resist pointing out the cynicism. Yes, it happened just fifteen minutes in, but to ask a concussed player to continue for another half-hour is a bit much. Where, for example, was Loïc Rémy? Here's hoping Oscar is fine. This isn't the first time there have been such dilemmas. Back in October, the shoe was on the other foot, if only because it was our attacker (Alexis) who collided with their keeper (Courtois), with the keeper suffering an apparent concussion only to continue playing. Far be it from me to accuse Mourinho of sacrificing individual players at the altar of his own personal glory, but...I'm not sure how to get myself out the corner I just painted myself into.
Look, we knew that Mourinho would play for the draw, even if his squad were already all but assured of winning the Prem. The man is allergic to losing (that's a credit, not a criticism...), but would it cause him to break out in hives to release the handbrake just a bit? When you've got attacking options like Oscar, Hazard, and Fàbregas; and a rock-solid defense that includes Ivanovic, Cahill, and Chelsea (among others), it seems criminal to batten down the hatches as if you're some brave, plucky League Two side hoping to win on penalties in the League Cup. It's pathetic.
Still, we knew what Chelsea were on about and they got it. Fair play, I suppose. They got the point they so desperately needed. What's it like to outspend your rivals and still settle for boring football and tepid results? There are victories moral and amoral; I suppose Chelsea will count this as the latter. As for us, I guess we can say that we split the difference. We pressed and probed and even penetrated, and we might even come away grumpy for not having scored. We had our chances. Still, the draw was enough to keep us level on points with Man City, who eked out a win over Aston Villa; and enough again to create some space between us and Man U—and we have a game in hand over both of them. They each have only four matches to play while we have five.
For as famous as a win might have been, the symbolism is still there: Chelsea fear us. Yes. Yes, they do. A part of that feflects the inevitable, unfortunate tension that grows from a streak. It's now fourteen matches that Arsène has failed to beat Mourinho. On the flip-side, there's pressure there to continue that same streak. A larger part of that, I suspect, reflects the narrowing margin between us and them. Whereas Abramovich has spent and spent to "earn" silverware in recent years, his squad is just barely good enough to hold us at arm's length even as if we've handcuffed ourselves to the long-term success of the club. At what positions could Chelsea realistically improve themselves? We're still searching for a striker, a DM, a keeper, who can elevate us to the next level.
Chelsea, you've gotten your Prem title. Whether you've earned it or can defend is another question. See you next season.