Arsenal overran Hull on Monday night, scoring three first half-goals and then conceding a second half header to ruin a clean-sheet, serving notice to anyone who still cares that, yes, it
is
still possible for a top-of-the-table squad to comfortably play an attacking, entertaining style
and
win comfortably against a squad fighting to stave off relegation. Yes, Chelsea managed to find its way past a stubborn Crystal Palace side, but, as always, method does matter, and Chelsea's method does beg certain questions when it needed a dodgy penalty to win at home in order to secure the Prem title. Elsewhere, Arsenal steamrolled a squad in desperate need of a point if not three, serving notice yet again that how one wins
does
matter even if there are no points for style.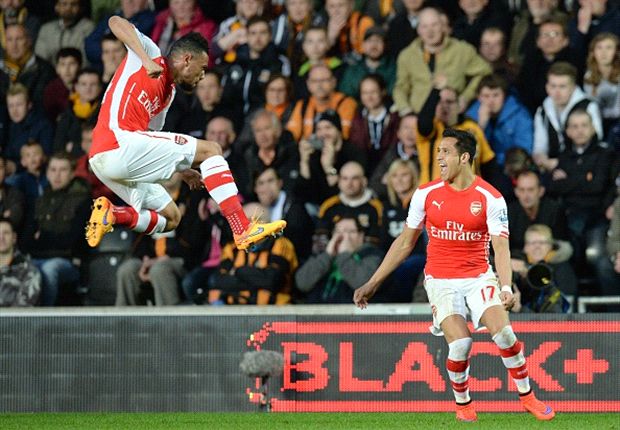 Unbridled joy: the byproduct of passion.
First, though, let's get at least one admission out of the way: we were a bit lucky on our first two goals, each of them coming on a deflection that sent Hull's keeper the wrong way. Alexis's free-kick deflected off of former Spud Michael Dawson, and Ramsey's shot caromed under Brady to again leave Harper flat-footed and empty handed.
That said, the second and third goals were the products of industry, guile, and skill, that third one coming via a sumptuous through-ball from Ramsey in behind the defense, onto which Alexis ran before side-stepping Harper to slot home. Something in me wants to point out the contrast between a deep-lying midfielder creating a chance for an erstwhile South American goal-scorer, but the pieces don't quite fit. Where's the disconnect? Oh, yeah. Unlike Costa, Alexis is
still
a South American goal-scorer, and Ramsey is
still
a Gunner. More to the point, Arsenal showed that an attacking, energetic style of football can and does produce results, even if (this time through, at least) it didn't quite do that often enough to overcome Chelsea's chintzy, grim death-march towards the title. That PFA Player of the Year Eden Hazard had to tumble in the box at home against Crystal Palace, only to see his penalty saved, kind of says it all. Supporting Chelsea these days is like supporting a clogged sink—you know it'll eventually, inexorably sort things out, but it's a mirthless, morose spectacle all the same.
While our own win over Hull was powerless to forestall Chelsea's coronation, it does confirm a few facts, offered in no particular order:
St. Totteringham's Day: Done. Dusted. It's beginning to feel like a bit of a formality. Former spud Dawson's role in securing it this season adds a sprinkle of jimmies to the cake.
Champions League: all but secured. The best that fifth-place Liverpool can do is to match us for points (70), but they'd still have to overcome our superior goal difference—which would amount them scoring approximately 23 goals more than we do
Finishing above Man City: a bit dicier. We're level on points with Man City and have a game in hand. On this account, we control our destiny. We could drop two points and still finish above them. Goal difference is too close to deal with at this point (they're +35; we're +33).
Finishing above Man U: a bit dicier still. Man U travel to Selhurst Park on Saturday, and we host Swansea on Monday. Man U could still overtake us if they win their three remaining matches to finish at 74 points, but we'd have to drop eight points from our remaining four matches.
Without overlooking the fact that points two through four are still, technically, hypotheticals, we would not be reckless to start sizing up next season. While anything can happen in the summer transfer-window, as it currently stands, Arsenal are serving notice that we are serious about challenging for the title. In what has long since become a tradition, injuries sapped our strength; we currently stand fourth in Injury League's tally of games missed to injury. Chelsea are dead-last. For the sake of argument, assume that no club makes any major signings but plays the 2014-15 season without any injuries. Where might Arsenal finish? A full season from the likes of Özil, Giroud, Walcott, Debuchy, and Wilshere. not to mention Diaby, Ramsey, Kosicelny, or Oxlade-Chamberlain, might be enough to propel us to the top of the table. If if's and but's were candy and nuts...
Last but not least, pundit Gary Neville had this to say about the performance:
It was a 'wow' performance. They popped the ball about, they had runners in behind, the work-rate, the togetherness, the vision... I just thought it was magnificent. I think this is a different Arsenal team. We've seen them play beautiful football before, but that was a winning-big-trophies type of football.
Huh. Of course, it's one thing to play in this way against a squad struggling to stay up, and quite another to do so against those fighting for a top-four finish,
Chelsea, of course, have shown that the ends justify the means. Meanwhile, Arsenal are suggesting that means do matter, even if points are not earned. It comes down to a question of personality and philosophy. Would you choose the cold, calculating certituded offered by Chelsea, or would you choose the aesthetic, effervescent artistry offered by Arsenal?