It's early days yet, but somehow it still feels like we've opened all the birthday presents without quite getting what we hoped for. Čech will be a master-class addition, I'm sure, but I can't resist the notion that he's meant to be that one signing that defines the summer transfer-window. Last year, it was Alexis; the year before it was Özil. Buying from Real Madrid, then Barcelona, and then Chelsea surely has to count for something, right? They're three of the most rapacious clubs around, after all. While Čech's transfer-fee might not compare to those of Alexis or Özil, his weekly wage packet does. At £100k per week, he'd be in our top-five most-expensive players, behind Özil, Alexis, and Walcott. Will he then become our marquee signing of the summer?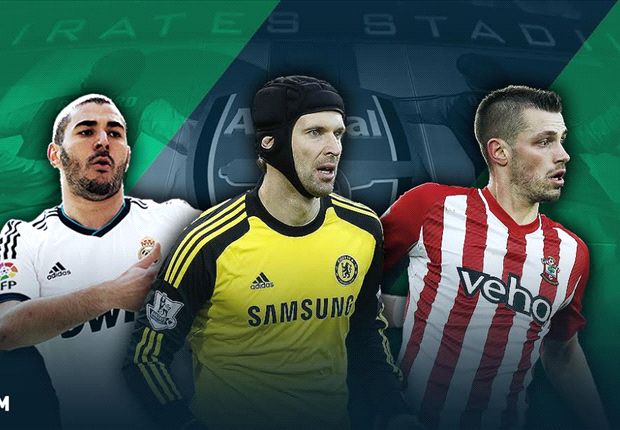 Čech will be, after all, the fourth-most expensive player in the squad, costing the club some £7.8m a year in wages and amortisation (his transfer fee spread over the length of the contract: £5.2m a year in wages plus £2.5m a year resulting from the £10m transfer fee being spread over the contract's four years). For comparison's sake, Özil costs £16.3m, Alexis £13.8m, and Welbeck £9.2m. Čech might add twelve to fifteen points if John Terry is to be believed. If he isn't, your correspondent might be, having made the
same prediction
weeks earlier. Will that be enough to rein in Mourinho's Little Pony, or will we have to continue to buttress and upgrade?
After all, the maths are remarkably simple, at least as far as the table is concerned. We finished twelve points behind Chelsea. If we take Terry at his word (always a risky proposition, at least as far as his wife is concerned...), Čech's arrival on its own should be enough to see us finish level on points with Chelsea. If I may add a corollary to Terry's treatise, it's logical to assume that Courtois will drop at least a point if not more without the challenge of Čech on the bench. On its face, then, the signing of Petr is the rock on which Arsenal builds its campaign. Done. Dusted. There's nothing else to do but play out the season and let the cold, hard maths to which football has been reduced play out.
However, we all know full-well that it's not quite as simple as that. If it were up to the actuaries and bean-counters, all they'd have to do is tally up each squad's weekly wages and award the trophy to the club with the most-exorbitant figure. While that's proven to be a remarkably accurate equation, it's a bit too dreary for my tastes and, I hope, for those who want to include
x-
factors like passion and chemistry.
It's hard to resist a certain sinking sensation as we hear stories of other desirables landing elsewhere. Kondogbia traded guaranteed Champions League play with AS Monaco for the hinterlands of Inter (eighth place in Serie A) over a move to Arsenal. Vidal looks likely to join Real Madrid after failing to defeat Barcelona in the Champions League. Schneiderlin seems to be using us as a pawn in his chess-match with Manchester United (who have yet to qualify for the Champions League group stage).
Have we missed out on the action, or are we playing a dangerous waiting game? While it might be true that Coquelin will address many of our needs in the defensive midfield, we still face a glaring question up-top. While Giroud has shown that he can deliver (and outperform his £8.4m transfer fee), we do still need someone who can compete it not outperform him. The biggest names being floated are Karim Benzema and Gonzalo Higuaín. However, each would command a transfer-fee upwards of £35m. Without worrying about weekly wages, would either of them prove to be four times as good as Giroud has been? Unlikely. Twice as good? It's a possibility. Benzema and Higuaín have each benefit(ted) from Real Madrid's profligacy, which means that their statistics (and salaries) have been inflated by playing for such flat-track bullies (the same might be said for Özil and Ángel di María).
On one hand, signing Čech inspires all sorts of splashy headlines. After all, it's not every day that someone leaves Chelsea for Arsenal. If anything, it's the other way 'round. On the other hand, we have to wonder if this will stand as our "signal of intent" or if we'll see other business before the transfer-window closes.
As always, thanks for your visit. Share your thoughts in the comments-section below the fold. In other news, this blog is nominated for a YAMA Award. You can tweet your nomination and vote for Woolwich 1886 with the hashtag #YAMAS15. Thanks!