The situation was dire. Arteta was sidelined by injury and Flamini was fading fast, neither of them up to the task of shielding the back four even at their long-toothed best. Who else in the squad could be entrusted to add some defensive grit into a side long on crafty ballerinas but short on tenacious brawlers? Yes, Wilshere, Ramsey and even the Ox had taken turns in the defensive midfield, but each of them is an attacker at heart, ill-suited to the task of staying home and breaking up attacks before they can metastasize into goal-scoring opportunities. Enter le Coq, as unlikely a hero as we may seen in recent seasons. For as good as he was from Boxing Day forward, I'm here to suggest that he'll only get better.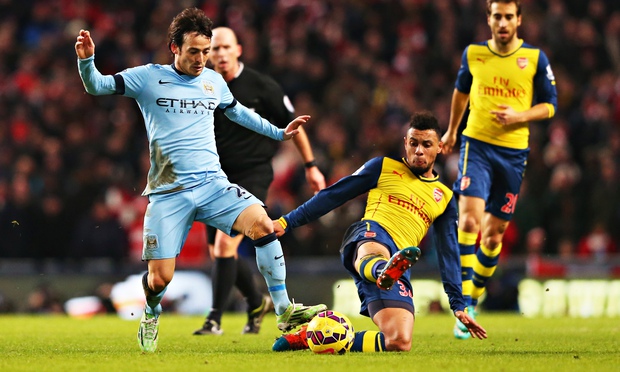 In 2012-13, his previous spell with the first team, he failed to impress, making just eleven appearances totalling 229 minutes (roughly 21 minutes per appearances). That was the season, after all, when the Ramsey-Arteta pivot emerged, especially in the second half of the season, solidifying a defense that had been porous and discombobulated, and it's little wonder that a 21-year old such as Coquelin would be loaned out, what with the still-spry Arteta as a deep-lying playmaker with the relentless Ramsey wreaking havoc from endline to endline.
Coquelin's loan to SC Freiburg in 2013-14 would prove disastrous, however, as he was played as a second striker, a right wing, a left wing, and was finally relegated to left out—as in benched. That positional purgatory, ironically, may have been precisely what kept him out of the Bundesliga's "worst-of" list for 2013-14. Meanwhile, Ramsey was setting the world on fire with his resurrection, adding 16 goals and 10 assists in all competitions to the reputation honed in the previous season for tackling, intercepting, and harassing the opposition into submission. With that as a backdrop, it would have been difficult indeed to imagine a return to the Arsenal for Coquelin, who, like so many loaned-out players, seemed more likely to leave permanently than return to the fold.
Fast-forward to Boxing Day 2014. Arteta and Wilshere had been out since the end of November. Flamini's been getting flimsier with each passing week. Ramsey was red-lining. Chambers wasn't ready. Coquelin, on loan to Charlton, was recalled. At first, it seemed like an act of desperation. The transfer-window wouldn't open for another two weeks, and Arsenal were desperate for a defensive midfielder at any level of experience. The only available player, it seemed was Coquelin.
What did he do? He contributed to vital wins at Boleyn Ground, St. Mary's, the Etihad, White Hart Lane, among other positive results. He did so by stripping his game down to its basics: sit back, intercept, and tackle. That's essentially all Coquelin did. His 3.2 tackles per game might have been just good enough for tenth in the Prem, but that's a stat that begs certain questions: by the time you have to go in for a tackle, you might have missed a chance at an interception. When it comes to interceptions, Coquelin's 3.7 per game outstrips his competitors by a country-mile. No one among the Prem's best tacklers appears on the list for the Prem's best interceptors.
In other words, Coquelin, thrown from the frying pan into the fire, showed what he's worth. Keep it simple, and do it well. At its essence, playing as a defensive midfielder comes down to denying the opponent chances to attack. Coquelin showed that he could do that in spades. After five months of showing that he could stay home
and
strike fear into opponents, Coquelin should be poised to take the next steps: launching and joining counter-attacks. Much as Ramsey did two years ago, Coquelin should be able to focus on one role, albeit with expanded responsibilities. He's shown that he can defend in adverse environments already.
It's time for him to branch out. We may not have secured the services of Schneiderlin, Schweinsteiger, or Vidal. Then again, we might already have seen what Coquelin is capable of...