This was his moment, the perfect moment, the one scripted for him above all others. Subbed on late in the match gainst a visiting lower-tier side chasing an equaliser in the world's oldest association football competition, Theo Walcott found himself one on one with the keeper. Heaton was 15 yards off the line when Theo collected the ball, 25 yards from goal. These are the moments Theo lives for and scores from, are they not? However, he bottled it, trying to dribble Heaton only to have the chance snuffed out. With that, he might have killed two birds with one stone; the first being the chance itself and the second being Oxlade-Chamberlain's revival. It's the second I'm more concerned with...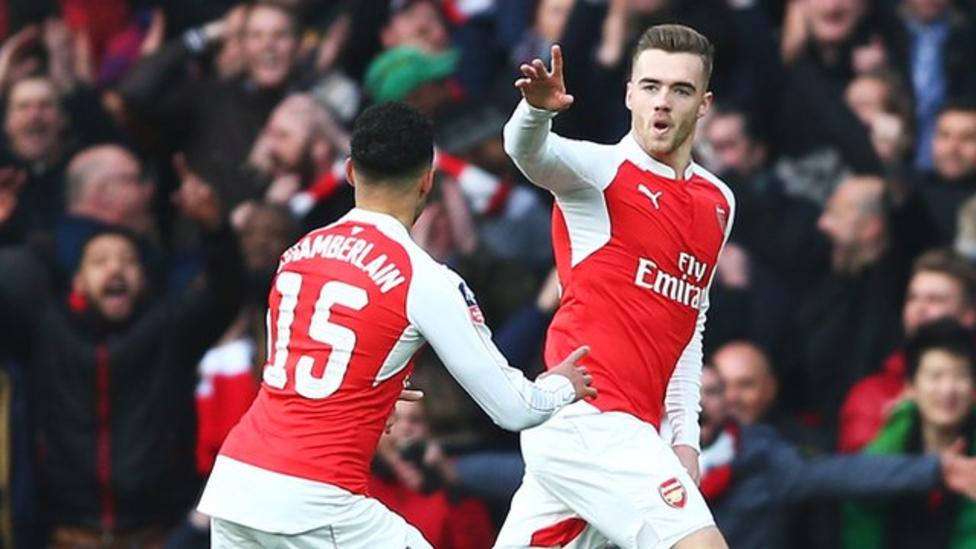 Oh, when the Saints go marching—wait, Theo will join us, won't he?
There's been some fretting and fussing over the two former Southampton products, with Ox becoming the
bête noire du jour
after getting too generous outside our own area earlier in the season. Walcott, despite his lacklustre form over the last three months, has largely escaped scrutiny. Ox, by contrast, has been flogged mercilessly. Even if we admit that Burnley are not quite the yardstick against which we should measure ourselves, Ox's performance over the course of the match is just good enough to restore our confidence in him, if not his own self-confidence. Had Theo finished his chance, well, we might have
three
former Saints feeling rather saintly.
Chambers, the most recent of the three to join Arsenal, secured his status as "not a scapegoat" (high praise among the Gooner faithful) by scoring the opener, curled wonderfully off the outside of his right after some nifty work from Iwobi and Alexis. His performance otherwise was merely competent at best. Ox, who's been in the squad for what seems like forever but really only since 2012, delivered a confident if not commanding performance in the #10 role. He linked up well with Coquelin and new-man Elneny while creating a number of chances for those ahead of him. His assist on our second goal might join the ranks of "best assists of the season" had it been delivered by Özil—it cut against the grain almost perfectly and arrived just outside the goal-box for Alexis to volley home—but because it had been delivered by Ox, many have written it off as dumb luck. More's the pity.
With Chambers having struck gold and Ox assisting the striking of gold, the stage was set for Theo to deliver the death-blow. Having subbed on for Alexis, Theo should have run amok, Instead, he mucked it up. That's an issue separate from the central one. For now. Had Theo finished his one chance, we'd be lauding Ox as a #10 in the making: not one but
two
assists in an easy victory during an error-free performance. He didn't quite orchestrate the offense to the same degree that Özil can. Then again, who other than Özil can? Confidence is key to success, and had Theo finished what Ox had offered, both men would have seen a surge in confidence.
The central issue is that we have on one hand a 26-year old who can't seem to create or contribute
and
who complicates matters by flubbing his lines or disappearing. On the other hand, we have a 22-year old with a wider array of talents (latent though they may be) who can't quite find his niche in the squad. Both are eminently likeable; both seem like genuinely good people as well as talented footballers. What's to be done?
Here's hoping then that there was still enough in it for Ox to come away encouraged, he did, after all, turn in a competent performance from an unfamiliar role. Whether it will be enough to propel him to greater things in the future remains to be seen. As for Theo, let's hope that he comes away inspired and angry, eager to prove his critics (such as your correspondent) wrong. One—or both—may have a chance as early as Tuesday when we host their former club. Here's hoping the chance brings out the best in both of them...