There are just 13 matchdays left, and the fox with an inside track has far-fewer distractions than the hounds chasing it. Leicester—henceforth known simply as "City"—hold a five-point lead over its more-pedigreed pursuers, each of whom has League Cup, FA Cup, and European commitments to distract and degrade their ambitions. It's one of the craziest Prem seasons in living memory, and the top four are separated by just six points. With each passing week, City lay waste to persistent doubts about their legitimacy. With each passing week, the gap between the top four and those chasing them widens. Madness. Let's get to it...
Leicester City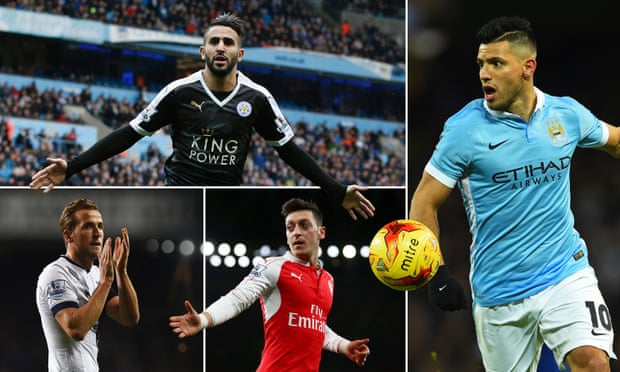 ● Position: 1st
● Record: 15W, 8D, 2L
● Points: 53 (70.67%)
● Total at this rate: 80.56
● Form: DWDWWW
● Last match: Man City 1-3 Leicester
Obliterating expectations to a degree that might make Pep Guardiola reconsider his plans, Leicester went into the Etihad and laid waste to a Man City that scarcely could be bothered to show up. Only a late Aguero goal could rescue any semblance of dignity for the Citizens in a result that concedes that singular name of City to Leicester. That said, City have crossed a bit of a rubicon; no longer are they darling, plucky upstarts. They're now full-blown favorites—for now. How they handle the mantle remains to be seen. To this point, they've arguably benefitted from a certain underestimation from their rivals, each of whom has been content to wait for the other shoe to drop. For as much as they might enjoy the support of everyone not supporting Man City, Tottenham, or Arsenal, they'll still have to play squads that no longer underestimate them. However, Their new-found defensive stolidity presents a new kind of challenge, though.
● Significant injuries (return date): Schlupp (27 February), James (no return date).
● Next match: Sunday at Arsenal
Tottenham
● Position: 2nd
● Record: 13W, 9D, 3L
● Points: 48 (64%)
● Total points at this rate: 72.96
● Form: DLWWWW
● Last match: Tottenham 1-0 Watford
Tottenham have ridden a soft-ish string of fixtures (Sunderland, away to Palace and Norwich, home to Watford) to second place. That's one factor. The other, to be sure, is a newfound confidence and competence in seeing off inferior sides—a list that is growing uncomfortably longer with each passing week. The Prem's stingiest defense is wedded to the fourth-highest scoring offense, yielding the largest goal difference in the league (+26). It is that goal difference that allows Tottenham to sit second while being level on points with Arsenal, but if Tottenham can continue to shut down opposing offenses while scoring so freely, they will stake a claim to staying in the top four. They'll have some Europa League action to juggle with a trip to Fiorentina following closely on the heels of a a visit to the Etihad. Into which basket will the chickens put their eggs?
● Significant injuries (return date): Vertonghen (no return date), N'Jie (5 March).
● Next match: Sunday at Man City.
Arsenal
● Position: 3rd
● Record: 14W, 6D, 5L
● Points: 48 (64%)
● Total points at this rate: 72.96
● Form: WDDLDW
● Last match: AFC Bournemouth 0-2 Arsenal
Phew. Aside from about 88 seconds, Arsenal looked positively pedestrian against Bournemouth, but the rise of Ramsey, playing through the middle, created enough chances that we were able to squeeze past. After four straight setbacks of varying degrees of disappointment, it was crucial to get back to winning ways. For as in-form as those above us have been, and for as indifferent as we've been, we're still just five points off the pace. Sure, there are those who will insist that we've bottled it, and they'd be right to a degree. Looked at another way, we've weathered a storm and are still right in the thick of it. For as enjoyable as it might be to sit atop the table in February, it's far better to do so in mid-May. Something in me suspects that those above us will start to swelter under the pressure of leading the pack. That's not quite the same as saying "we've got them right where we want them," but it's closer to the truth than "we've lost the Prem."
● Significant injuries (return date): Cazorla (two weeks), Wilshere (one month). Rosický (two months).
● Next match: Sunday vs. Leicester.
Manchester City
● Position: 4th
● Record: 14W, 5D, 6L
● Points: 47 (62.67%)
● Total points at this rate: 71.4
● Form: WDWDWL
● Last match: Man City 1-3 Leicester
Is there such a thing as pre-Pep letdown? The announcement that Guardiola would replace the very-successful Pellegrini after the season seems to have deflated any semblance of ambition left in the squad, as if the presumptive guarantee of silverware a year from now has bred a bit of complacency—not that this squad has suffered a shortage of such. In a season in which other rivals (Man U, Liverpool, and Chelsea) have sunk, Man City have sleep-walked through most of the Prem season, failing to win two consecutive Prem matches since September. Saturday's visit from Leicester was supposed to provide a platform for the deepest, most-expensive squad in the Prem to reassert its prominence, but aside from Aguero's late goal, they could scarcely be bothered. Still, they're a sleeping giant, a week or so away from Kompany's return. Write them off at your own risk.
● Significant injuries (return date): Silva (NA), Navas (2 Mach), De Bruyne (16 April), Mangala (20 February), Bony (14 February), Kompany (14 February), Nasri (2 April).
● Next match: Sunday vs. Tottenham
The coming weekend could be cataclysmic, as each club in the top four faces another also in the top four. City, five points clear, travel to the Emirates to face third-place Arsenal; while Tottenham, five points off City's pace and level with Arsenal, travel to the Etihad to face fourth-place Man City. The visitors in each case are in-form; the hosts somewhat less-so. It's a chaotic, tumultuous recipe that will add a great deal of spice to the run-in. Cross whatever appendages you can cross, rub whatever severed rodent-appendages you own, pray to whatever deity, deities, or disembodied, nebulous forces you believe keep the planets in-orbit and Arsenal in contention. Atheists, rely on cold, hard logic—but only if it confirms that Arsenal emerge victorious in the long run.