Can it be the international break already? Please? The last few weeks have been especially unkind to Arsenal, what with getting dumped out of the Champions League and FA Cup and winning just once in our last eight outings. It's hard to believe that just a month ago, there was distant talk of a treble, but that talk has slowed to a trickle as Arsenal face not only a season without significant silverware, but one in which we might finish below Tottenham for the first time since 1995. And so we go into Goodison Park clinging to slender hopes of resurrecting something from a season that feels like it's teetering on the edge of catastrophe.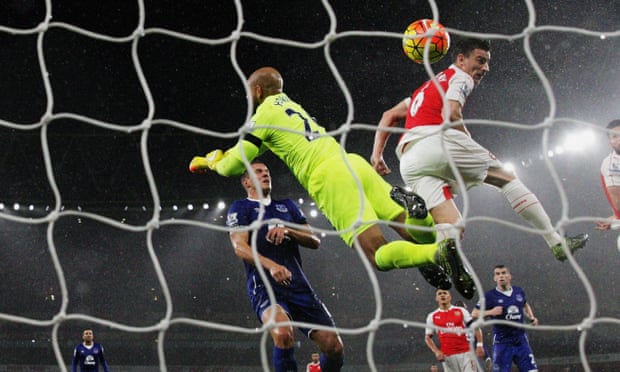 Do I exaggerate? Perhaps. Then again, despite the collapse of Chelsea and the misadventures of Man U and Liverpool, we still find ourselves marooned in third place. To be peering up at the likes of Leicester and Tottenham offer little consolation. Still, with a game in hand, the gap betwen us and Tottenham is not insurmountable. If we can take care of business and Secret Agent Benik does the same, we might finish the weekend just three points back of those noisome neighbors.
As for Everton, it's getting hard to remember that they once threatened to supplant us among the ranks of the top four. Despite Romelu Lukaku finding his form, going or 18 goals and counting on the season, the Toffees hover in mid-table mediocrity, essentially safe from relegation and with little hope of a top-five finish. In perhaps the most damning of testimonies, Roberto Martínez's name no longer seems to appear on anyone's short-list or replacing Arsène Wenger, even as the almost-eponymous manager struggles through one of his most-trying campaigns ever. Martínez's squad is full of players like Lukaku, young and brimming with talent, but he just can't seem to conjure the same magic he once did.
If our squad can find any semblance of form, we should be able to shut down the service Lukaku needs to thrive. He's not quite good enough yet to create chances for himself on a regular basis, but the mercurial Belgian poses a dangerous threat. The absence of Gareth Barry, who excels at the ticky-tack nudges and clatterings that so undo us, should free up our midfielders to close down Cleverly, Barkley, and Lennon so that Alexis, Özil, and Iwobi can feed Welbeck, much as they did against Barcelona on Tuesday. Everton's home-defense is the worst in the Prem with 26 goals conceded, so we should be able to find (and finish) plenty of chances. The Toffees have little to play for but pride—a factor not to be discounted—but we still harbour hopes of our best Prem finish since 2005.
LAST 3
Arsenal 2-1 Everton (24.10.2015)
Arsenal 2-0 Everton (01.03.2015)
Everton 2-2 Arsenal (23.08.2014)


FACTFILE
Arsenal have lost just once in 19 matches against Everton across all competitions.
Everton
Arsenal have scored at least two goals in their four matches against Everton across all competitions.
Arsenal have lost both matches refereed by Mark Clattenburg in this season.

INJURIES
Čech, Cazorla, Ramsey, Flamini, Wilshere, Oxlade-Chamberlain, Arteta and Rosický have all been ruled out.


POSSIBLE STARTING XI
Ospina; Monreal, Gabriel, Mertesacker, Bellerín; Coquelin, Elneny; Alexis, Özil, Iwobi; Welbeck.

Facing a must-win situation simply must bring out Arsenal's best; nothing less than a win will do.


PREDICTION
Everton 1-3 Arsenal