It's official. I'm now a card-carrying member of the WOB. After the disappointing draw at home against Crystal Palace, I've converted. For the second straight week, we've bottled it. All we had to do in each case was defend a lead against an inferior opponent, and we couldn't do that. At least against West Ham we could claim that we were away to a motivated opponent. This time through, well, there are few if any rationalisations. Palace didn't need this point and barely played like they wanted one. Still, we gifted it to them all the same, and we now teeter precariously. I've tiptoed along the line of supporting Arsène through thick and thin, but this is the straw that broke the camel's back.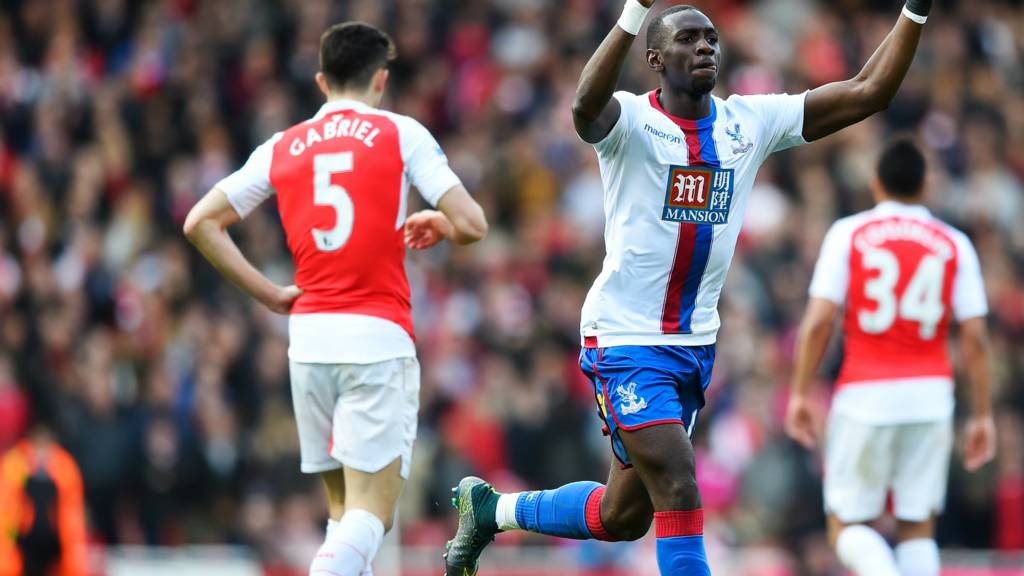 If just one of you had done your job...then again, we only scored once...
Let's get one issue out of the way. I could give a rat's ass about finishing about Tottenham. It's been a lark, to be sure, but little more than that. The real goal is and always has been to win the Prem, failing that, to finish in the highest position possible. To finish below Tottenham is a kick in the knickers, to be sure, but all streaks are meant to be broken. Frankly, I'll be just as relieved to end this one as I was to end the trophy-drought. It's like ripping off a bandage. Just do it already.
Back to the present. Courtesy of our second consecutive draw, courtesy of dropping points from a losing position for the second week in a row, we're now embroiled in an all-too-familiar fiasco. Leicester have essentially won the Prem. Tottenham have a firm grip on second. While we went into the weekend with a reasonable chance at snatching second away from them, we now face the very real worry that we'll fade into Europa League contention. Yes, we're level on points with Man City, but they're in-form
and
sport a superior goal-difference. We're going to have to fight tooth-and-nail to get in front of them—and based on Sunday's result, we're up for that fight.
Instead, we have to worry about those other Mancs, those bastards at Old Trafford (gotta love that feminine rhyme). Instead of assessing whether Man City's Champions League run will undermine their form in the Prem, we might do better to assess whether Man U's FA Cup run will undermine their form in the Prem. Looking further down the road, we have to wonder what it might all mean should Man City win the Champions League, Man U win the FA Cup, and Liverpool win the Europa League.
Whatever.
We shouldn't be in that position. We shouldn't be checking UEFA's website to figure out how many Prem clubs will qualify for the Champions League in the first place.
While I refuse to believe that we've bottled it completely and utterly, I've reached my breaking point. I say this as one who lived through some leaner years (10th place in '83 and '93; 12th in '95...). In othe words, I'm not one of those glutted on the glories of Arsène's first ten years. I've stood by him through the austerity-years as he financed the Emirates. I've defended him against the hindsight of those who accused him of failing to anticipate the oiligarchies at Stamford Bridge and the Etihad. I've derided van Persie and Fàbregas and defended Giroud and Ramsey. I've defended the man on the basis of how much he's done and how much of an accomplishment it's been to stay in the top-four all these years.
No more. After each of the last two seasons, I waxed nostalgic about how meaningful and symbolic it would have been for Arsène to step down after winning the FA Cup. What a wonderful riposte that would have been to Ferguson, who trampled that trophy. What would it have meant to the prestige of this cup, the oldest association football competition in the world, for Arsène to retire after having won it? Each time, however, I was beguiled into thinking that the winning of it justified another season.
Watford, of course, proved that this was a bridge too far. Even as we eviscerated them in the Prem a few weeks later, I couldn't help but wonder why we couldn't muster up more of a challenge of our own and only title of late.
It's Arsène. He's lost the plot.
He's been a brilliant manager for a long, long time, but he's overstayed his welcome by a a year or two, maybe more. I won't join those calling for his head on a platter. Instead, I still harbour some hope that he can end his career on a high-note of sorts, but his margin of error for that is now microscopically thin. Had Man City, Man U, Liverpool, or Chelsea performed to expectations, I could understand our present position. However, each of their underwhelming performances has only exacerbated how unexceptional we have been.
Arsène, I've stood by you and taken a lot of stick for it, but I've stepped across the threshold. It's no exaggeration when I say that I'm tearing up as I type that because I still believe fervently in what you've done for this club. I still respect your loyalty, your dignity, your class.
Whenever this odyssey comes to its end, history will still judge you as one of the most-magnificent managers that this or any other club will have ever known—not just for the silverware you won or didn't win but also for how you've conducted yourself through the good times and the bad.
May we all carry ourselves with such grace...