As we all know, Özil needs two assists to equal Thierry Henry's record of 20 Prem League assists. There was a time when this achievement looked to be all but assured. After all, he had 16 assists by Boxing Day—that's 19 matches played, by the way. Extrapolate that out to a full season of 38 matches, and he'd finished with the un-earthly sum of 32 assists. Instead, however, he's been mired in a rut of sorts with just two assists in his last 14 and may miss out on a chance at eclipsing Henry, at least by this one metric. Even if he falls short, he'll emerge far and away as the best creator Arsenal's ever had.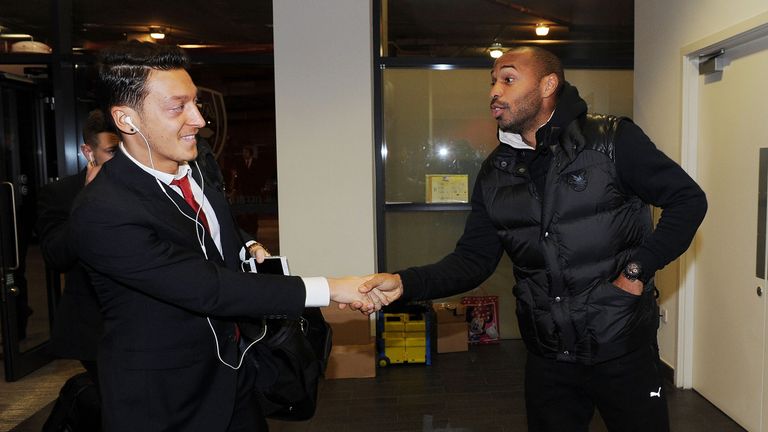 Consider the apples-to-apples:
In the 2002-03 season, Thierry Henry notched 20 assists. Henry was creating chances for the likes of Bergkamp, Pirès, and Ljungberg.
In that season. we scored 85 goals in 38 matches.
Henry assisted 23.8% of Arsenal's goals in that season.
In this season, Özil has notched 18 assists. Özil is creating chances for the likes of Giroud, Walcott, and Alexis.
In this season, we have scored 58 goals in 34 matches.
Özil has assisted 31.3% of Arsenal's goals in this season.
For Özil to finish with an assist-rate lower than Henry's, Arsenal would have to score 18 goals without an assist from Özil. This would bring our total goals-scored to just 76.
How do you like them apples? Of course, Henry did score 24 goals, somewhat inhibiting the percentage of goals he could assist. On other hand, Özil has offered 113 key-passes, some of them so jaw-droppingly simple to finish, so gob-smackingly easy to score, that it's wonder he's mired in this little rut. It's not been for lack of effort or creativity. By rights, he should have broken Henry's record way back in December against Bournemouth when he offered up to Walcott perhaps a half-dozen gilt-edged chances only to see Walcott waste every single one.
The signing of Özil was meant to herald a new era at Arsenal; however, it now seems to highlight the contrast between the first half of Arsène's reign and the second. Without making too much of the metaphor, the first half of Özil's season and of Arsène's reign match all too well: sexy, successful, scintillating. The second half of each is marked by much of the same: frustrating, feckless, and futile.
Özil himself has seemed, if anything, motivated by all of this. Instead of settling for serving up sterling chances, he's been taking the bull by the horns, getting into the box and trying to score on his own. After all, if those around him can't finish what he's started, he might as well finish instead of start.

Still, with four matches to play (against Sunderland, Norwich, and Aston Villa, no less), is it outlandish to think that Özil might still find the time to offer up ten or twelve chances, with his mates obliging him by converting three?

For those worrying that we're turning out attention to individual feats at the expense of the club's goals, consider the notion that each Özil assist brings us closer to a third-place finish and preserves the possibility of finishing second. Ponder that...