So, it's come down to this. We've eked past Norwich to secure another vital three-points, but the bum-squeaky tightness of it all only reminds us of just how piss-poor we've been over the last five to seven
weeks
months. Still, it's a marker of just how bang-average everyone else has been that we now find ourselves in third place three points clear of Man City after they were thrashed by Southampton. After a season in which we've been frustrated and infuriated in equal terms, dare we still dream of finishing above Tottenham? Irony of ironies, our chances of doing so depend in part on the
prodigal
pariah-gal son: Cesc Fàbregas. Tottenham goes into Stamford Bridge on Monday, and anything short of a win lets Leicester win the Prem. Should they stumble to a draw or, better yet, defeat, I daresay we swallow our pride and hope that Fàbregas does them in.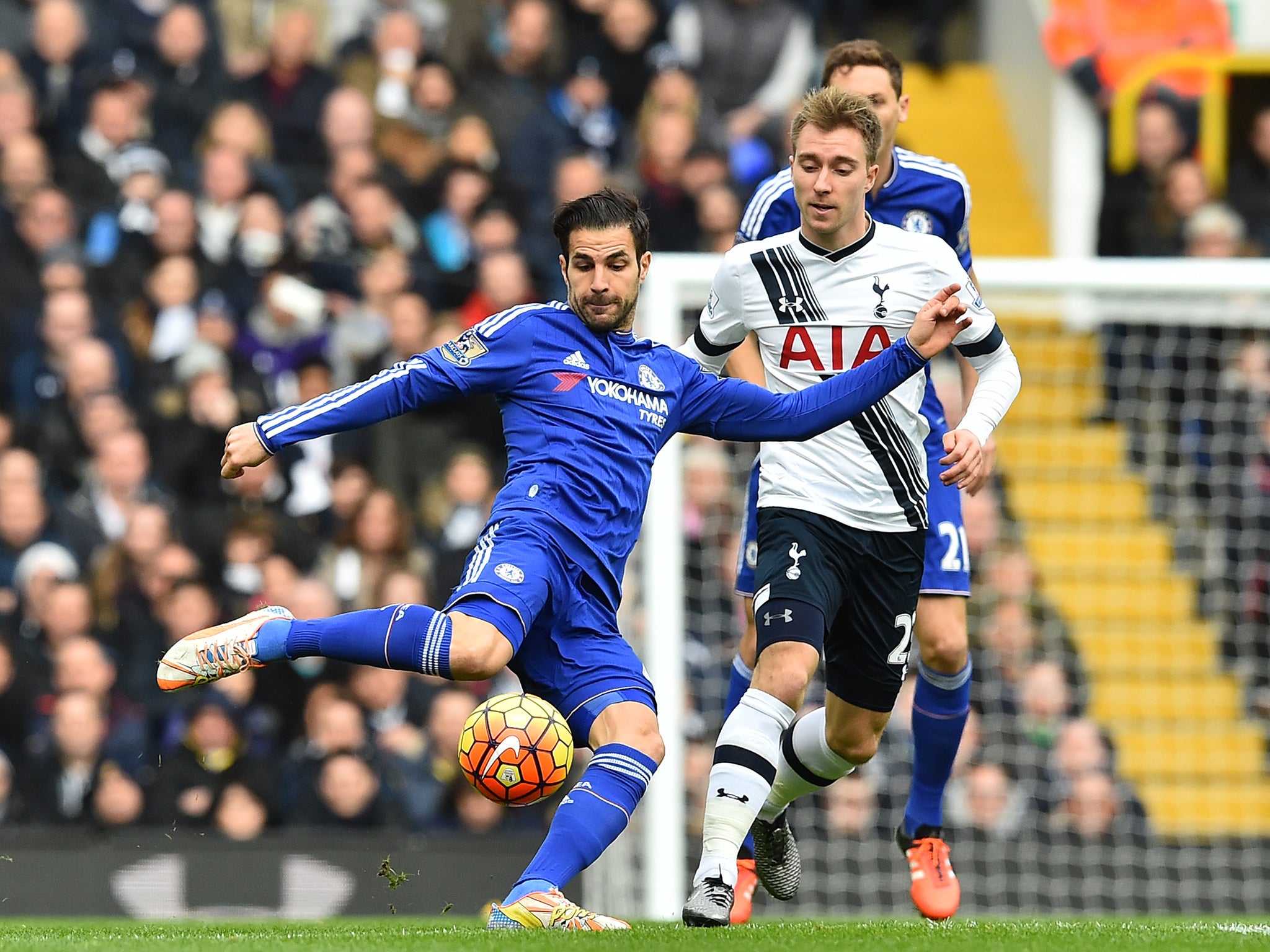 With Mourinho at the helm, we could all safely ignore the match, secure if not quite content in our knowledge that he would throw it in order to spite us. With him ousted, there's a chance that Hiddink might actually make something of it. Chelsea has nothing to play for other than pride—to win all four of their remaining matches would send them only as high as 59 points, which 6th-placed West Ham can exceed with one point from their own four remaining matches. Can we count on the Chavvies to do us a solid? It's doubtful, but, in this of all seasons, anything's possible, including Sadio Mané bagging a hat-trick against Man City. That's already happened, which is why we're even here.
Let's assume that Chelsea does defeat Tottenham. That strands the Spuds at 69 points with two to play. We of course go into the Etihad on Sunday—this will be City's fifth match in 16 days. With Pellegrini's eyes firmly on winning the Champions League, he might again name a reduced squad against us, much as he did against Southampton when he rested Kompany, Agüero, and Touré. Surely, that trio will feature against Real Madrid in the second leg, needing just a goal to advance against the Ronaldo-less, Bale-led
blancos
. In any other year, one might peg Pellegrini to play it safe, securing a Champions League spot for next year via a top-four Prem finish.
This ain't any other year. Man U's home-draw to Leicester all but ensures Man City's top-four spot, freeing City up to focus on winning the Champions League. Even if a Leicester win (in addition to capping off a fairy-tale season in fitting-style) would have been better for us, that draw gives Man City one more reason to downplay our Sunday-visit.
First things first, though: let's hope against hopes that Fàbregas shrugs off the second-half doldrums that have dragged him down in seasons past. Heck, Fàbregas has his own demons to exorcise after his woeful display at White Hart Lane back in November when it seemed he was more interested in completing passes to Spuds than to Chavs. Let's hope that he leads Chelsea past Tottenham, not because we
have
to finish above Tottenham (although St. Totteringham's Day
is
fun...) but because second place is superior to third. If Chelsea can do right by us—always a dodgy prospect—well, then, Sunday's clash against Man City regains a bit of the lustre it had way back when the fixtures were initially released. No, we won't be vying for a Prem title, but we may just have a chance at our best finish since 2005.
These are slender hopes, but they're more than we might have hoped for just a few weeks ago when it seemed that all was lost. Should Chelsea win against Tottenham, and should we win against Man City, well, all bets are off as to who finishes behind Leicester. Heck, after visiting Stamford Bridge, Tottenham have to host in-form Southampton, who seek a Europa League birth; and then visit Newcastle, who are desperately staving off relegation. We finish by hosting Aston Villa, who have been relegated since Boxing Day or thereabouts. There's just enough in that to scratch one's chin, isn't there?