Oh, to be a Gooner. Am I right? Tottenham have not only been dumped from Champions League play, they've now out-Tottenhammed themselves out of the Europa League, courtesy of a 2-3 aggregate loss to Gent, occupiers of the eighth spot on the highly esteemed Belgian First Division. What's more, Chelsea, shorn of any European entanglements whatsoever, square off against Man U in the FA Cup's fifth round. On top of
that
, Man City face a dicey FA Cup replay against Huddersfield
and
an even dicier second leg in UCL play after winning 5-3 over Monaco. In short, our Prem rivals are on the ropes, are they not?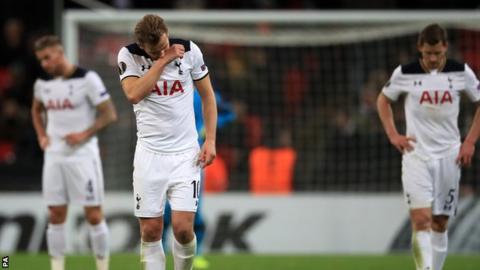 At first glance, yes, it is most definitely enjoyable to see our rivals, be they big or small, suffer. Humiliations galore. To see Tottenham do what they do best, both in the Champions League and again in Europa League, is amusing. So to is seeing that City are wobbling in both the FA Cup and Champions League. For Man U to worry over advancement in the FA Cup and Europa League? Priceless. The fact that Chelsea don't even have Europa League fixtures to fret over, for one, is deeply satisfying. Then again, they're atop the Prem.
And that brings us to the annual Arsenal paradox. Each season offers us tantalizing dreams of all sorts of silverware, or, failing that (as is all too often the case), progressing deep into each competition, advancing past the Champions League's round of 16 to the quarter-finals and arriving at the FA Cup final. All the while, we myopically hope to also win the Prem in an improbable campaign to do a double or, even more improbably, a treble.
While wishing for such halcyon days, we somehow also root for our rivals to crash out of these other competitions, gleefully celebrating their various setbacks and downfalls, conveniently ignoring the paradox, the one in which we simultaneously aspire to progress ever-deeper into each and every competition in order to maximize our chances at glory while we also hope that our rivals at the earliers possible stage of each every competition to maximize their embarrassment.
We can't have it both ways. We can't celebrate Tottenham's Europa League embarrassment
and
hope for our own Champions League advancement. To put it more bluntly, our hopes might even have
depended
on Tottenham's advancement and our own ouster if we're serious about our Prem ambitions. We should know how taxing these extra fixtures are—the travel, the extra exertion, the time taken away from training, and more—so we paint ourselves into a paradoxical if not hypocritical position.
In an ideal world, of course, we win every match we play, and our rivals lose every match they play (except when they play each other, in which case they should draw but also earn numerous red cards). We don't live there, and I know this because, among other reasons, I don't get to and from work each day on a Triumph Bonneville. Also, instead of enjoying my retirement from a long career playing for the Arsenal, I continue to be obliged to show up each day at my current job. So it goes.
Long story short, to coin one phrase and then another, be careful what you wish for. Sure, Tottenham's misadventures are similar to watching an upended turtle trying to right itself. However, each time our rivals crash out of other competitions, they're liberated, in a sense, and can focus on the Prem. Look at Chelsea. How much of their form from September 'til now can be attributed to the absence of those six group-stage and two knockout fixtures they might otherwise have had to play?
That's ultimately unanswerable without the help of a time-machine. In its absence, we have to go with cold, hard logic: the more matches a squad has to play, the more that squad will suffer or stumble. Much as I hate to admit it, given the current state of things, it might have been nice in the long run for Tottenham to advance, for Chelsea and Liverpool to have qualified for Europa League play, for us to crash out of the Champions League.
With only that last item on the wish-list likely to occur, if nothing else, it might be wise to temper our celebrations of the suffering of others. In the end, after all, what would you rather celebrate? Tottenham crashing out of Europa League play, Chelsea crashing out of the FA Cup, or Arsenal winning the Prem?