It's not quite the triumpant return some may have hoped for, but Theo Walcott and Serge Gnabry each featured in the u21 squad's match against Blackburn. Theo played the first half before being subbed for Alex Iwobi while Gnabry stayed on until about the 60th minute when Zelalem came on. It seems that each did well and showed few signs of rust or lasting damage. While you may be disappointed to learn that neither man scored, keep in mind that this is somewhat beside the point. They were not playing with the u21s to help that squad win, first and foremost; they were getting some time on the pitch. If they had chipped in a goal or an assist, splended. Again, that's not the point. Getting them ready for first-team action
is
the point. By that standard, it seemed like a successful outing.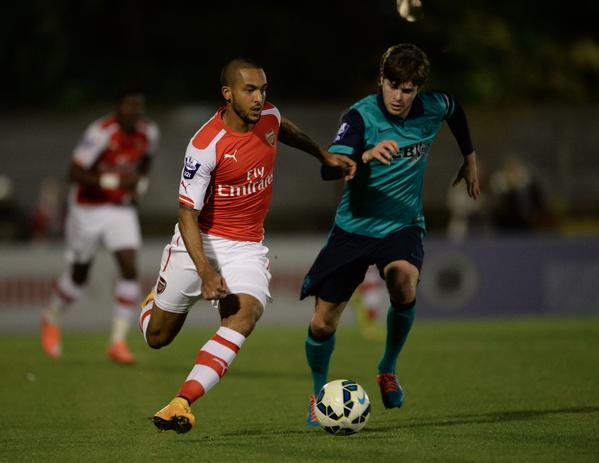 Apparently, Pochettino has a son who plays for Blackburn. That, or...
With the game untelevised, I'm sorry to say that we can't watch any highlights, and the best we can do is glean from the official Arsenal twitter feed. A few highlights:
@AbouVDiaby and Crowley combine well to find @theowalcott in the box but he shoots inches wide (20)
@theowalcott skips past four and crosses to @SergeGnabry whose shot is blocked (4).
That's about all she wrote (or bothered to tweet). Scant evidence, indeed, but enough to build up some hopes, dreams, and expectations. Given the nature of Theo's injury and his number-one asset, pace, it's hard to know what to expect from him. Will he still have the speed and quickness that he had before? There are some who liken a surgically repaired ACL to a fresh rubber band. It's not as if Theo had worn out his original ACL, but the larger concern will relate to his recovery and return to form: the muscles that surround and support the knee. If he has rehabbed thoroughly and continues to rebuild the strength and speed he had in those muscles before the injury, he should be fine and the risk of reinjury is no higher than it was beforehand.
He apparently opted to go with a graft from his right knee's patellar tendon rather than from his hamstring, and this approach is widely believed to lead to the best guarantees of returning to previous performance levels. It might have been nice to see Theo get a few goals as incontrovertible proof that he's back with a vengeance; more than likely, though, he was playing a bit cautiously, testing both knees (as the graft from the right leg will require rehabilitation as will the injured left).
If he was able to play a full half, that's a positive sign. For those who count chickens before they're hatched, and for those chicken littles who see the sky falling at every turn, take a breath. For the first crowd, he won't play against Hull, nor will he play midweek against Anderlecht. He may not even be ready to play a week from now against Sunderland. Give it time. For the second bunch, don't read into his being subbed off. There's no indication of reinjury, relapse, or ruination. I know that many of us are predisposed to fearing the worst when it comes to injuries (and for good reason), but chin up. We would be foolish to expect some kind of chest-thumping veni, vidi, vici performance in which Theo scores four or five goals. We would be equally pessimistic to assume that he's succumbed to reinjury.
Take it for what it was: a warm-up, a trial, designed to see how well his knees will respond to game-situations. So he played for 45 minutes against a group of teenagers without scoring? Focus on the 45 minutes he completed, not on the 45 he did complete. He'll be back soon enough, even if not soon enough to satisfy all of us. When he does, be it against Sunderland or Swansea or Soton, I'm sure he'll remind us in short order what he's capable of.