We're off to such a slow start, apparently, that it's only a matter of time before the WOB emerges, pitchforks sharpened and torches lit. A shocking loss to West Ham looks now to be them trolling us, as they've followed with home-losses to Leicester and Bournemouth, and we couldn't find a way past Liverpool, drawing at the Emirates. Ignoring the facts that (a) Liverpool haven't conceded a goal yet and (b) put on a bus-parking display that made Mourinho envious exacerbates a feeling of futility, a gnawing sense all of that preseason optimism was hopeless naïve. The lack of transfer-dealings, save Čech, fuels that fear. With the days dwindling, maybe it's just about time to throw in the towel...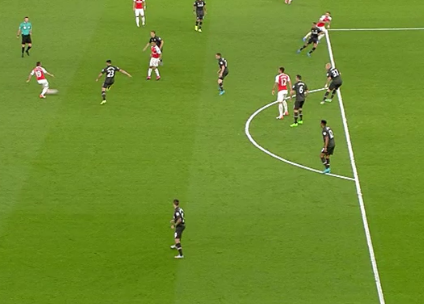 A game of inches, at times...
As the American writer Mark Twain once said, "those of you who are inclined to worry have the widest selection in history."
Aside from Prem woes and transfer worries, of course, we have the Champions League draw to fret over, and here are the pots:
Barcelona, Bayern Munich, Benfica, Chelsea, Juventus, PSG, Zenit St. Petersburg, PSV Eindhoven.
Arsenal, Atletico Madrid, Bayer Leverkusen, Manchester City, Manchester United, Real Madrid
CSKA Moscow, Dynamo Kiev, Lyon, Olympiakos, Galatasaray, Roma, Shakhtar Donetsk, Sevilla
Astana, BATE Borisov, Borussia Monchengladbach, Wolfsburg, Dinamo Zagreb, Maccabi Tel-Avi, Gent, Malmo.
Given the current mood of gloom and doom that seems to surround us, I'm sure we're all dreading a Group of Death scenario with Barcelona or Bayern, Roma, and Borussia Monchengladbach or Wolfsburg, followed by failure to qualify for the group-stage while our Prem season continues to fall apart.
Hold on. Yes, we've stuttered out of the gates after a rip-roaring preseason that did include an historic win over Chelsea. We were embarrassed at home, were perhaps lucky to escape Selhurst Park with three points, and have to feel frustrated at the Liverpool draw Just four points from nine has us sitting ninth, behind such lightweights as Leicester, Crystal Palace, and Norwich.
Hell, we're still ahead of Tottenham, and that counts for something—and that's more than be said of our start a year ago when we had taken five points from nine We're still ahead of Chelsea as well. None of this means anything yet. The only issue that does matter is Man City, who look hungry and well-oiled and ready to run away with the Prem title. Then again, that was said last year at about this time when it was Chelsea rushing out ahead of the pack. It's not even September. The right combination of results sends us skyrocketing to as high as third (Swansea gets to eight points with a win over Man U, Man U gets to eight with a draw...). If we leave St. James' Park with a win, will this mean that we've sorted our issues? Not anymore than one howler means we're in shambles. Try to take a longer view of things rather than riding a roller-coaster.
Aside from Man City, all of the other would-be contenders look a little fragile and out of sorts. Let's set our sights on Newcastle on Saturday and then look ahead to the close of the transfer-window on Tuesday. Between the two of them, we'll have something more to base our assessments and emotions on. Would a loss to Newcastle force Arsène to dust off the chequebook—or does he already have an ace up his sleeve, ready to be unveiled in the waning minutes of the transfer-window?
In the Champions League we could draw with PSV Eindhoven, Olympiakos, and Gent. A favorable draw, a win over Newcastle, and another 11th hour transfer? Would two out of three be enough to cheer us up?