The weekend could not have gotten off to a finer start. Before Arsenal could even take to the pitch, Chelsea had been annihilated by Everton, losing 1-3, marking their third loss of the young season—the same number of losses they suffered through all of 2014-15. Yes, we'll have to keep one eye on Everton, but that can wait. Could there be a better time to arrive at Stamford Bridge after having finally slain the Mou's hoodoo over us by defeating him in the Community Shield and seeing Mourinho's minions looking positively apathetic? Heck, if Newcastle win at Upton Park on Monday, Chelsea fall into relegation. Imagine
that
.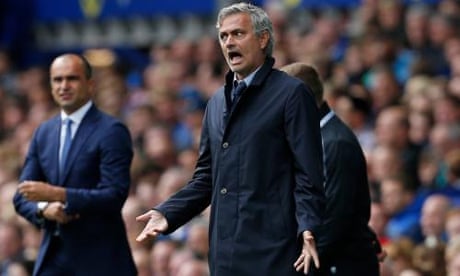 Okay, so it's a bit early to talk of relegation. The sky is not falling quite that fast. Still, it would be a delicious dessert indeed to see them fall that low if only for a week or two. We have a busy week ahead of us, what with Wednesday's trip to Zagreb standing between us and Saturday's trip to Stamford Bridge, but savor that picture for a few moments: Chelsea facing relegation. We'll come back to that momentarily...
First, though, let's congratulate ourselves on seeing off Stoke, who must feel a bit flattered by the scoreline. We carved out chance after chance after chance only to squander them. Stoke parried us away time and time again. When they did dare to thrust, Coquelin made what is coming to be a trademark two-footed tackle to knock the ball to Özil, who saw Theo lurking on the fringes of Stoke's backline, and launched a pass 50 yards forward. Theo trapped it down coolly and slotted under the splayed-out Butland, and we had our lead. It was a vintage counter-attack, the kind that reminds us of what makes Özil so special and Theo so dangerous. If Özil and Theo can find more moments like those...
Still, Theo couldn't quite break Stoke down on his own, and his deficiencies as a centre-forward are still apparent: no presence on set-pieces, no hold-up play, aimless movement. It's perhaps no accident that his goal when he broke forward from the right and on up the middle. By contrast, Giroud came on an almost immediately made his presence known, scoring from a set-piece header at the near-post. I'm not suggesting that Giroud is in any way superior to Theo, just that they each bring separate skills to the table. If we could just find room on the pitch for the two of them
and
Özil, Alexis, and Ramsey...
After an embarrassing start to the season, then, we've righted ourselves quite nicely, rising briefly to second before settling a bit to fourth, level on points with Man U who sport a superior goal difference. Speaking of embarrassing starts, Chelsea is off to its worst start since 1988, although it must be noted that they
did
go on to win the league in that same year although that would be the Second Division. Here it is, 2015, and Chelsea have not only already matched the number of losses from all of 2014-15, they've conceded more goals than anyone else in the Prem and look positively pathetic. No sense of organization, no determination, no drive. Could it be that Mourinho has, in his third season at the helm, already overstayed his welcome? He's never stayed at a club for more than three seasons. At some level, his mindgames and passive-aggressiveness must chafe and undermine morale. At another, the departure of Čech might have sapped Courtois' drive while signifying a rift between Mourinho and Abramovich. After spending in a manner that would make drunken sailors blush, Chelsea made just a few modest moves this summer. What better time to arrive at Stamford Bridge?
But wait.
Could this all be part of an elaborate Mourinho-esque hoax? Selling us Čech, losing the Community Shield, stumbling out of the gates...all of it seems a bit contrived, as if Mourinho wants to lure us into something only to pounce after we've let our guard down. Even if this is a far-fetched conspiracy, we'd do well to remember that there's more than meets the eye, and to assume that Chelsea's poor form will be enough to see us succeed on Saturday is wishful thinking indeed. Should it come to pass, splendid. But we should plan for Mourinho pulling out all the stops, whatever that may mean. Fàbregas is already in post-January form. Without Čech to challenge him, Courtois looks about as reliable as Szczęsny. Ivanovic has looked like he's running in quicksand. If anyone's seen Hazard, they should call Interpol. And on and on.
Still, all bets are off when it comes to Arsenal facing Chelsea. Form does not matter, nor does history [cue Chelsea fans scrambling for dictionaries...]. Come what may on Wednesday, we had better show up on Saturday ready to face Chelsea in its fully incarnate form, not its toothless, gormless one.