What a week, for good and bad. We saw the transfer window slam shut without any dramatic deadline-day signings, obscuring the fact that the arrival Petr Čech signifies intent on its own. While our lads largely escaped any interlullian injuries, we were served with the bad news that Welbeck, the closest we have to a backup to Giroud, may be out until December. While obfuscating the length of his layoff might have been strategic during the transfer-window (full disclosure might have inflated asking-prices), we still are left to wonder how well we'll contend going forward. Then again, we do have a full-strength defense, with Gibbs, Monreal, Koscielny, Mertesacker, Gabriel, Chambers, Debuchy, and Bellerín, offering all sorts of options as we invite the Orcs in on Saturday.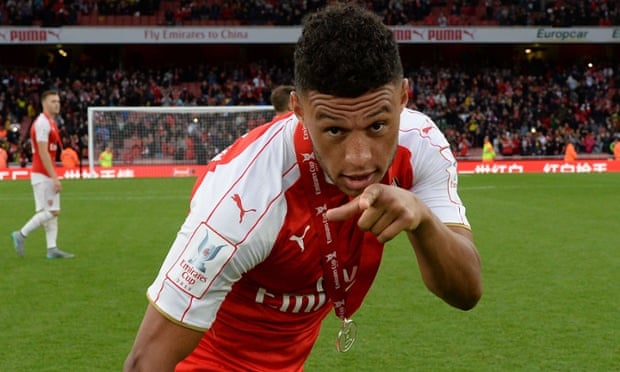 As for me, I had to take advantage of the interlull to settle into a new day-job over the last two weeks, and I'm not sure I can sustain the daily blog-posts, at least in the short-term. We'll see. Fortunately, there hasn't been much to worry over, what with everyone escaping injuries and, by and large, acquitting themselves. There was a bit of a kerfuffle over Giroud's performance against Serbia, but it's worth mentioning that this was a friendly, and Giroud actually didn't do too badly, seeing the keeper deny him from close range and scuffing another shot wide from a very tight angle. Whatever. I'm not so worried about how our lads play at the international level; I'm more concerned with them returning to the club healthy and whole. Qualifying for Euro 2016 is important, to be sure, but I could do without the friendlies altogether.
Speaking of doing without friendlies, we'll have an intense invasion on our hands come Saturday, when Stoke pays us a visit. They'll be without a few of their more-fearsome faces, what with Shawcross injured, Adam serving a suspension, and Begovic sold to Chelsea, but it's still Stoke, and passions will no doubt run high. That they'll be without a few bogey-men hardly changes that. We'll have a closer look at Hughes's hellions tomorrow.
For now, though, a few quick musings on the Ox. He was first-choice for England (starting ahead of Walcott), and while no one would mistake San Marino or Switzerland for Chelsea or Man City, he did impress. In those stints he's served in Arsenal's season to this point, he's both shined and shamed, scoring against Chelsea in the Community Shield and sort-of scoring against Newcastle; then again, he was guilty of coughing up the ball to West Ham to allow them to score their second goal in
that
loss. Even when he doesn't score, he's capable of forcing defenses to account for him. He's one player in the squad who can offer both pace and power—but he still can't find his way into a regular spot in Arsenal's XI.
To play him on the right, where he played for England, would relegate Ramsey to the bench—or we could move Ramsey back to the middle—but would that force Özil to the left? Would this then force Alexis to play forward? With Ox finally shaking off some of the lingering after-effects of his cruciate ligament injury back in 2013
and
starting to round into form at age 22, he's starting to pose some pertinent questions about his role in the squad. There has been talk in the past from Arsène of grooming Ox to play more through the middle, but who would give way, and how would that affect our balance? It seems that Arsène wants to find room for Ramsey on the pitch, and Ox can't or won't supplant him on the right. Only a fool would suggest that he could outperform Özil or Alexis at their respective positions.
Could Ox then be primed to take over for Cazorla? The diminutive Spaniard will turn 31 in December, and that does bring to mind questions about other creative, attacking midfielders of the Spanish persuasion who have been converted to a deeper playmaking role after coming to Arsenal. While it's far too soon to suggest that Ox and Coquelin be entrusted to play side by side, that might present Ox with his best chance at finding his niche. For now, our attacking midfield trio will consist of Alexis, Özil, and Ramsey. Unless Ox is ready to try his hand as a striker, his best bet lies in playing the box-to-box role alongside Coquelin. It's a role he's tried a handful of times alongside Arteta. If this Coq-Ox axis proves out, we could have our defensive midfield settled for the forseeable future. Time will tell...