We've had our fair share of run-ins with Bayern, and, let's be honest: each time, we've come up holding the short end of the stick. However, Bayern have never faced an Arsenal squad boasting of this kind of form, at least not in the last few seasons. In the Bundesliga, Bayern are little more than flat-track bullies, battering their opponents into submission and snatching up those players who flash the temerity to show them up. The flip-side to this is that they rarely if ever come up against a squad with the talent or tooth to take them to task. Enter the Arsenal. Depsite these Bavarian bullies' bluster, we've held our own, almost upending them in stunning fashion—and they've not had to deal with us in the form we're in, not even a few weeks ago when we battered them to the tune of a 2-0 scoreline.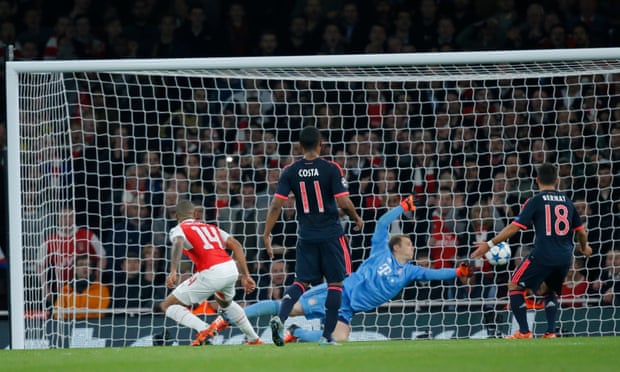 Let's review the history, as grisly as it can so often seem. Spoiler-alert: this will by necessity involve the resurrection of other painful losses that those prone to fainting spells should first check on the availability of smelling salts as well as of fainting couches.
2012-13, first leg: Arsenal lose 0-1 to Blackburn in FA Cup before losing 1-3 to Bayern
2012-13, second leg: Arsenal visit White Hart Lane to endure a 2-1 North London Derby loss but follow with a famous 0-2 win at Allianz Arena.
2013-14, first leg: Arsenal suffer 5-1 loss at Anfield and 0-0 draw at home to Man U before the debacle marked by Özil's missed penalty and Szczęsny's red-card in an 0-2 loss.
2013-14 second leg: Arsenal endure a 1-0 loss to Stoke beforea 1-1 draw at Allianz Arena.
2014-15 group stage: Arsenal lose 2-3 to Olympiacos, the first time that the Greek club has won on English soil, before blanking Bayern 2-0.
In each previous instance, in other words, Bayern faced a demoralised, disorganised Arsenal squad. While it's true that they emerged victorious each time, a closer look suggests that they've been fortunate to catch us at our lowest ebb or close to it. Even then, they've emerged by the proverbial skin of their teeth while getting skinned more than once along the way.
Even before our 2-0 win over Bayern two weeks ago, we'd been on a fine run of form, one that's seen us score 13 goals in five wins while keeping four clean sheets—why, that's positively Bayernian of us. Speaking of being Bayernian, the Manicheans from Munich have mustered a mere eight goals in their last five matches while being held scoreless twice. Contrast that against the 24 goals they scored in their preceding six matches, in which they never scored fewer than three, and the bloom is just a bit off the rose.
The funny thing about confronting a bully is that you need only say "boo" in the right tone of voice. There's something about playing Arsenal that seems to put Bayern on the back foot. Even in that 1-3 win, there was something amiss, with that third goal coming on a stroke of luck rather than skill.
Look, I know that we have our injury-woes, what with Bellerín joining Ramsey, Walcott, and Oxlade-Chamberlain among the recently wounded. For what it's worth, Bayern will go in without Ribéry or Götze, shearing them of a few options going forward. At a broader level, Bayern's entire squad, from Pep on down to the latest transfer, knows that Arsenal have scared the bejesus out of them more than once. We've done so without Petr Čech. We've done it without Alexis. Something telss me we can do it again with Čech, Alexis, and Özil, among others.

Stranger things have happened, after all...