A draw with Norwich in the Prem. A hiding by Bayern in the Champions League group stage. A shocking loss to Sheffield Wednesday in the League Cup's fourth round. Two goals scored, nine conceded. Injuries to Koscielny, Alexis, Oxlade-Chamberlain, and Walcott, a list to which we can now add Cazorla, maybe even Gibbs. What ties this series of unfortunate events together? What execrable element unifies these otherwise-disparate setbacks into one depressing heap? We're through the looking-glass here, people. The only culprit fiendish enough to mastermind such a vast conspiracy is none other than...
the third kit
!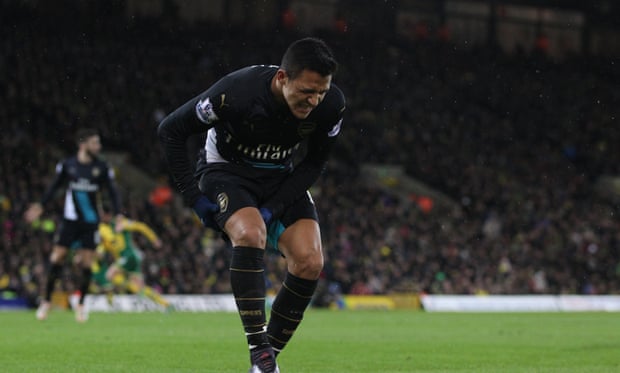 It's inescapable. The only three times we've worn it this season, the results have been abominable.
Heck, the kit itself is abominable—and I've been sayin' that since the day it was released. Whether it's the actual aesthetics (why are those lines slanty? what's with the colour-scheme? who designed that art-deco A on the back? and so on...) or our squad's performance in it, there's no denying the hoodoo it has over us. A more-detailed rundown is in order:
27 October: Sheffield Wednesday 3-0 Arsenal. Ox gets injured five minute in. Walcott, his replacement, comes up late less than 15 minutes later. Sheffield scores twice before halftime, and this one is over. Try to spare yourself the memory of those god-awful baby-blue shorts and socks.
4 November: Bayern 5-1 Arsenal. Bellerín was pre-injured, but Koscielny was an ominous late scratch after picking up a minor hip injury—as if the kit wished to warn us before working its black magic. Three goals in the first half meant that Bayern actually applied a little bit handbrake in the second, allowing us to score while scoring just two more of their own.
29 November: Norwich 1-1 Arsenal. Just nine minutes in, Koscielny had to come up after injuring his hip again, but the kit tantalised us, allowing us to take a lead soon after. The kit's a cruel mistress, though, as the Canaries found an equaliser. Alexis came up lame late in the second half (perhaps Ramsey did as well?). We'd later learn that Cazorla was playing "on one leg, and we'll find out in coming days just how serious those fresh injuries are.
Is this a coincidence or conspiracy? It's hard to write it off as the former and equally hard to resist the latter. the grim reality is that the third kit is laying waste to our squad and to our campaign. Coming into November, it was starting to feel as if we could stake a claim to being contenders. The Sheffield result felt at first like just a speed-bump in the lowly League Cup. For us to truly stumble, our boys would have to fall victim to nine separate misfortunes and be unable to play. But that will never happen. Three misfortunes, that's possible. Seven misfortunes, there's an outside chance, but nine misfortunes—I'd like to see that.

And now here we are. Three depressing results. Five injuries. We don't need a new physio. We don't even need a new signing. What we need is an exorcist. Failing that, some petrol and a match.

After this latest one, I know we're all gnashing our teeth. I hope we can at least agree on which garment to rend...