So. That's about it, then. With one depressing, catastrophic loss, our hopes of advancing past the group stage lie in a dilapidated heap. Scoring one goal clearly wasn't enough, not as the visitors against a more-determined home side. I speak, of course, of Dinamo Zagreb's capitulation in Greece, where, despite taking an early lead, they lost and thereby all but obliterated Arsenal's hopes of advancing. Our own loss in Munich is water under a bridge. A point might have been nice, but, we knew by halftime that this was out of the question. In fact, the less said about our own performance, the better...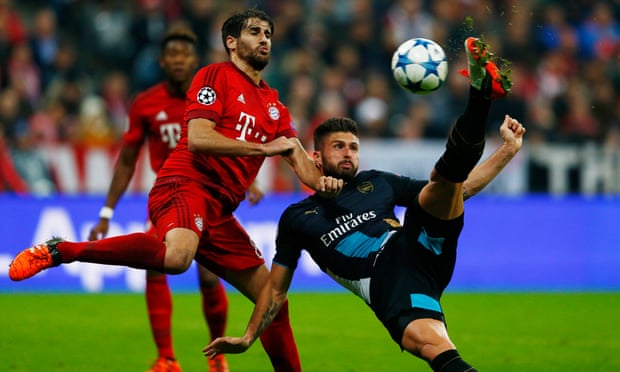 Heck, for about twenty minutes past halftime, we could still cling to some kind of hope that Dinamo would win. Their keeper Eduardo even turned away a spot-kick (I'm still searching for the symbolism of that...). Although we had abandoned all hope at Allianz, there was still some chance that a Dinamo win would keep the door open on our finishing second in the group. However, Olympiacos fought back, finding an equaliser in the 64th minute. Dinamo then were reduced to ten men, and it started to feel like only a matter of time before Olympiacos found a winner. Sure enough, they did, and we at Arsenal now have to wonder where our best path lies. Choose poorly, and we end up in the purgatory that is Europa.
Our first path is quite clear: lose at home to Dinamo, and we'll likely finish fourth, crashing out of Champions League play but also dodging the bullet that is Europa. Our other path is a bit more muddled and lies beyond our control. We'd have to win at home over Dinamo while Bayern beat Olympiacos in Munich. From there, we'd have to go to Greece and win by two goals. On paper, that's manageable. After all, the trip to Greece would come four days after hosting Sunderland and four days before visiting Aston Villa.
On paper, those two Prem matches are eminently winnable. In fact, we simply have to win both if we're serious about sustaining a title-tilt. Drop points to the likes of Sunderland or Villa, and you might as well pull up the tent-stakes. While we might be able to count on beating Dinamo and on Bayern beating Olympiacos, it gets a little dicey from there. We'd then go in to Greece on 9 December needing to win by two goals against an Olympiacos side that knows that losing by one, drawing, or winning will be enough to finish second in the group. Should they park the bus and refuse to lose (by much), we'd finish third, consigning ourselves to the Europa League and all its attendant attrition.
On one level, we might be expected to lord it over the Europa League, much as Chelsea did in 2013, but those expectations are a sword of Damocles. If we won the competition, there'd be a collective yawn. Anything less, and Arsenal's critics would have daggers in hand. More importantly, the toll the Europa campaign might take on our squad could sap our strength for the Prem and FA Cup, two competitions we have legitimate designs on
and
legitimate needs for. While it's true that the 2015-16 Europa League champion would qualify for 2016-17 Champions League play, we could crash out of the FA Cup, stumble in the Prem,
and
fail to w in the Europa League (which does end up including a fair number of respectable clubs, it must be said...). Where then would we be? If you think summer transfer-windows have been frustrating, wait until we spend one without the lure of Champions League play. Not convinced? Ask Tottenham and Liverpool how they've done in similar circumstances.
None of this means that all hope is lost. After all, we should be able to beat Dinamo, and Bayern have a good reason if not the need to beat Olympiacos. From there, if we can emerge from Greece with a two-goal victory, we're through to the group-stage—with the bonus of knowing we wouldn't face Bayern again in the knockout stage. While we're past the point of "anything's possible", we're not yet to the point of "mission: impossible." We've clung to skinnier straws than that in recent seasons, at least in the Champions League...