It was an august ceremony, full of pomp and circumstance, as Arsène Wenger stepped up towards Queen Elizabeth II's throne to receive his appointment as a Knight Grand Cross of the Most Excellent Order of the British Empire—an unique distinction, given that Arsène is not a citizen of the Commonwealth—but it was the only distinction suitable to the occasion, Arsenal having defeated Man City days before. Indeed, each member of the Arsenal squad that had defeated Man City, thereby winning an unprecedented quadruple in that exact-same instant, received his own appointment as a Knight Commander of the Most Excellent Order of the British Empire. Just as Arsène bowed down, however, reality rudely intruded...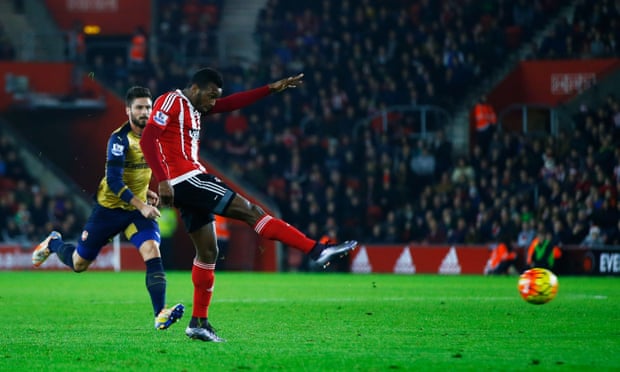 Martina might want to save some of his wishes for his next birthday...
For as much as man-handling Man City might have felt like just that kind of coronation, succumbing to Southampton might feel infinitely worse. However, the cold, hard reality lies somewhere in between. Just as we
didn't
win the Prem on Monday, we didn't get relegated on Saturday.
Why does it seem that we need a right proper kick in the arse at least once a season before we decide to play to our own potential, rather than down—or up—to the level of our opponents? Just five days before, we convincingly conquered Man City, but the same squad couldn't be bothered to play to anything near the same level, preferring instead to play down to Southampton's—well, at least the Southampton of the last few weeks. Pity that we ran into Southampton circa 12 months ago, the one that was riding as high as third. Come to think of it, it was nearly 12 months ago that we last visited St. Mary's for a Prem clash and came away almost as badly beaten.
Let's keep some perspective, though, shall we? Everything that could have gone wrong for us and right for Southampton went that way. We had several beautiful chances in the first fifteen minutes but couldn't make anything of them, and that's when the rug got yanked out from under us. Cuco Martina shocked everyone—including himself—with a stunning 30-yard laser beam, conjured from nothing, to open the scoring. Did he believe he would score? Maybe. Did he
hope
to? That's more likely. At any rate, it was a game-changer, and we seemed to lose all interest in competing from that point.
Maybe we got our hopes artificially inflated by the fact that Leicester had lost at Anfield, offering us a chance to go top of the table with a win. Who cares who's top of the table in December? I seem to remember a certain North London club preening its feathers in early February 2014 only to finish fourth (where else?). The real pity here is that we didn't get the three points, regardless of where those points would put us at the moment. We now have a one-point lead on Man City while trailing Leicester by two. As thrilling as it might have been to chant about being top of the league, I'd much rather we put a bit of space between us and Man City.
Don't let the scoreline delude you. Whether we lost 1-0 or 4-0, the outcome is the same: three points dropped. Hell, at least we dropped points at St. Mary's and not Villa Park, as Man City somehow did. Southampton, despite their disappointing performances to date, are no mugs. They put on arguably their best performance of the season while we delivered our worst.
We have that unfortunate history of getting hided every once and again—only to hitch ourselves up by our boot-straps and go on as fine a run of form as anyone's seen. If you're still whingeing and whining, eavesdrop over at Old Trafford or Stamford Bridge. I'd wager you'll come way feeling quite a bit better. That's not the same as saying all's well at the Emirates, but I have a feeling we'll set things right as soon as Monday.
Perspective. It's in short supply, especially when it's most-necessary.