In a season that has already become a caricature of a "typical" Arsenal season—a strong run of form dares us to hope that something special is in the offing, only for injuries to sabotage us yet again—what might ordinarily look like a cakewalk this coming weekend becomes a fixture fraught with fear. Injuries to Koscielny and Alexis last week stripped us of our best defender and attacker and exposed us to dropped points against a Norwich side we should have overcome. We'll welcome a Sunderland side fresh off of confidence-boosting wins over Stoke and Crystal Palace. Can we circle the wagons?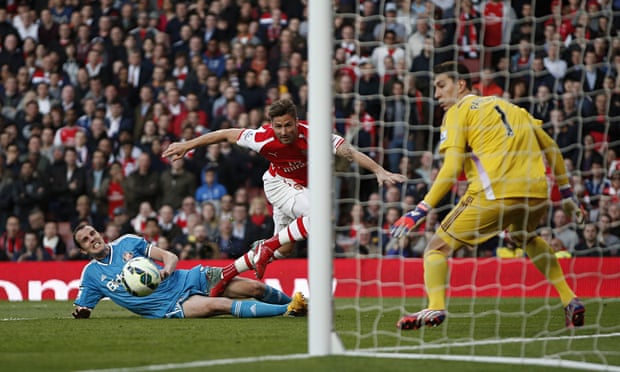 If there is good news, it's in the suggestion from Arsène that Koscielny and Walcott could be available, but whether either will be in any kind of shape to play a full 90' is another question. Against Sam "I am the Walrus" Allardyce, we should expect much of the same as his sides have delivered so often in the past—deep defending, long balls forward, scant possession—and long periods of frustration as we look for ways to fight through a 3-5-1-1 or 5-3-1-1 thicket (the latter being successful against Stoke and Palace). The former at least offers us a bit of space on the flanks to operate, but if neither Alexis nor Walcott is ready, we may indeed struggle to break this defense down. Behind Kaboul, O'Shea, and Coates will stand Pantilimon, the Prem's tallest player and one who by sheer size can block a fair number of shots.
It's not that it will be all one-way traffic as we'll have to be aware of counter-attacks, not in the direct sense but in the set-pieces that can ensue. Without Coquelin, and with or without a gimpy Koscielny, others on the pitch will have to be that much more mindful of their responsibilities. If there is good news, it's in the possibility that Ramsey will be restored to the central role that resurrected his career from 2014 forward. Playing alongside Flamini, he should have some freedom to get forward and remind us of the kind of form that made him such a talismanic figure during the 2014-15 campaign. There may be no better time than now for the Welsh Jesus to experience his next resurrection. With Gibbs likely to play on one wing and Campbell on the other, our best attacking options may yet come through a more direct approach spearheaded by Ramsey. He's not quite our only hope, but he looks like our best one.
LAST 3
Arsenal 0-0 Sunderland (20.05.2015)
Sunderland 0-2 Arsenal (25.10.2014)
Arsenal 4-1 Sunderland (22.02.2014)


FACTFILE
Arsenal are undefeated at home in nine home matches against Sunderland.
Sunderland have not scored more than one goal at the Emirates since 2007.
The two clubs first clashed on 1 August 1904.


INJURIES
Cazorla, Wilshere, Rosický, Welbeck, Coquelin, and Sanchez have all been ruled out; Gibbs and Koscielny face late fitness tests.


POSSIBLE STARTING XI
Č
ech; Monreal, Gabriel, Mertesacker,
Bellerín; Flamini, Ramsey; Gibbs, Özil, Campbell; Giroud.
Expect a stubborn, frustating match in which we dominate possession and either (a) create but fluff many chances or (b) create and finish them.


PREDICTION
Arsenal 3-1 Sunderland