Whoa. Could the madness have reached any more of a fever pitch? A wild, wooly weekend has made the run-in one for the ages. Even if the eventual champions finish on fewer points than usual, this past weekend's results suggest that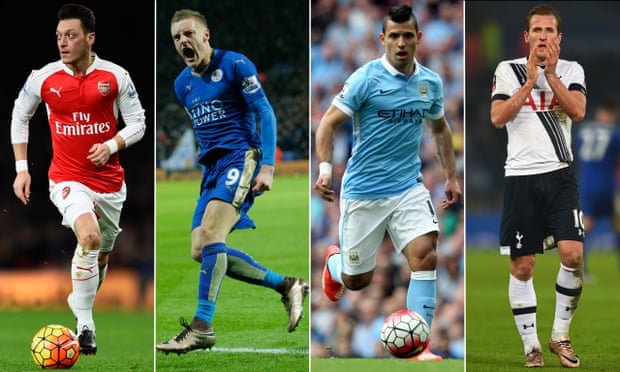 the top four have in fact created some distance between themselves and the rest of the pack, setting up a madcap dash that could very well come down to the last day of the season. In a week in which the top four all squared off against others in the top four, one seeking more drama and scandal would have to find a
telenovela
. Just six points separate all four, with a another six separating fifth. Hold on to your hats, ladies and gentlemen; the rundown is about to begin...
Leicester City
● Position: 1st
● Record: 15W, 8D, 3L
● Points: 53 (67.8%)
● Total at this rate: 77.5
● Form: WDWWWL
● Last match: Arsenal 2-1 Leicester
Leicester came in to the Emirates having won three on the bounced and looked likely to make it four after Vardy earned and buried a penalty just before halftime. The hosts looked flummoxed, struggling to break down the Foxes' stubborn defense. Vardy's penalty brought together two of Leicester's most-lethal weapons—the counter-attack and the penalty—but one has to wonder whether such tactics can last. Vardy has now earned more penalties than any other team, but that tactic is, well, tacky. Witness Mahrez's dive in the second half. If referees start to look th other way, as Atkinson did, Leicester may flounder just a bit. Leicester may have hit a high-water mark last week win that win at the Etihad—but that might come to be a Waterloo of sorts. They're still the presumptive favorites. How well they deal with the pressure will go a long way towards determining where they finish. They'll have almost two weeks to rest and contemplate their future—something that none of their rivals can enjoy.
● Significant injuries (return date): Schlupp (1 March), James (no return date).
● Next match: 27 February vs. Norwich.

Tottenham
● Position: 2nd
● Record: 14W, 9D, 3L
● Points: 51 (65.4%)
● Total points at this rate: 74.5
● Form: LWWWWW
● Last match: Man City 1-2 Tottenham
Tottenham continue to impress, having now won five on the bounce, although their latest might lost just a bit of its lustre having come against the mediocre Mancs (City, for those wondering which Mancs are the more-mediocre at the moment). Even if the manner of their win is a bit controversial —the penalty against Sterling
was
harsh—Tottenham's tactics are proving more and more title-worthy. Their goal difference (+27) could very well come in handy given how tight things stand at the moment, and the only real question about the legitimacy of their credentials comes down to their priorities. Can they sustain this level of competition in the Prem and fight more deeply in the Europa League and FA Cup? Theirs has been a season of slow and steady building which seems to have finally hit its stride at the penultimate moment. Leicester have been mercurial; Arsenal and Man City have been up, then down. To turn an old saw on its head, will slow and steady win the race?
● Significant injuries (return date): Vertonghen (no return date), N'Jie (5 March).
● Next match: Thursday at Fiorentina (Europa), Sunday vs. Crystal Palace (FA Cup).
Arsenal
● Position: 3rd
● Record: 15W, 6D, 5L
● Points: 51 (65.4%)
● Total points at this rate: 74.5
● Form: DDLDWW
● Last match: Arsenal 2-1 Leicester
After dropping points in four consecutive matches, it's possible that Arsenal have righted the ship, having now won two in row, the last in stunning fashion as Walcott and Welbeck, each written off in some way or another, made good on previous promises. Welbeck's goal, of course, was more dramatic, coming as it did in the waning seconds of stoppage-time, but the larger impact should not be wasted. If either or both of the two can find his scoring boots, Arsenal are ready. Having struggled in the early going against Leicester, they were indeed fortunate to see Simpson sent off—but were just as deserving for their work afterwards. High-impact subs are hardly a hallmark of Arsenal in recent years, but these were two who made their manager look brilliant (the third, Chambers, also acquitted himself quite well). Is this good enough to keep pace with and overtake those above them? There's a date in early March that may tell us...
● Significant injuries (return date): Koscielny (14 February), Gabriel (12 February), Cazorla (two weeks), Wilshere (four weeks). Rosický (two months).
● Next match: Saturday vs. Hull (FA Cup), Tuesday vs. Barcelona (Champions League).
Manchester City
● Position: 4th
● Record: 14W, 5D, 7L
● Points: 47 (60.3%)
● Total points at this rate: 68.7
● Form: DWDWLL
● Last match: Man City 1-2 Tottenham.
Two consecutive home-losses against top-four rivals have got to leave us all wondering what's wrong with Man City? The answer is pretty much the same as it's been all season. This is a jaded, disinterested bunch whose fortunes depend on moments of brilliance from Agüero or Touré, and if neither of them is interested, fit, or in-form, well, one must hope that Pep Guardiola is the answer. Then again, of those in the top four, no one else has the experience at finishing strong quite like Man City does. They're only six points off the pace after all, and they've come from further back with fewer fixtures in the past. If they can find the kind of urgency that has eluded them all season, they'll erase any of the doubts ascribed to them. Kompany's back, which should solidify that back-four, but the names and talent on the pitch only matter insofar as their desire to dig deep and fight. In what might have otherwise been a cakewalk for the deepest squad in the league, that's still an open question.
● Significant injuries (return date): Navas (2 March), Delph (2 April), De Bruyne (9 April), Mangala (21 February), Bony (21 February), Nasri (2 April).
● Next match: Sunday at Chelsea (FA Cup), Wednesday at Dynamo Kyiv (Champions League).
In other news, Man U did what only five other squads have managed to do—lose to Sunderland. While not fatal, it does inspire certain impertinent questions about Van Gaal's tenure. Chelsea continue their imitation of an Invincible season, which has been good enough to see them climb to thirteenth position. Good on them for that, I'm sure. They and Liverpool scored eleven goals between them, enough to make one wonder why they don't save a few for when they're truly needed. No matter. The real news is fifteen points higher or more. Leicester, Tottenham, Arsenal, and Man City are locked in a battle royale. Will the upstarts have enough vim and vigor to stay top of the table? Will the grizzled veterans rise from their torpor? Or will the title come down to which colour North London is?