No Kos. No Čech. A spluttering offense that just can't get on track. Sounds like a toxic mix, eh? We're not done. Throw in two of the softest yellow cards issued in recent weeks, reducing Arsenal to ten men against high-flying Tottenham, and we truly have a recipe for disaster. Oh—and we're not quite done. An injury to Ospina inspired the bum-clenching prospect of Ryan Macey between the sticks with the still shaky Gabriel and the still wet-behind-his-ears Elneny, A pulsing North London Derby at White Hart Lane looked like it would be Arsenal's Waterloo. Instead, however, those Spuds bottled it, and now the pressure is on them to prove that they deserve to be where they are—just three points above Arsenal with 27 points still available.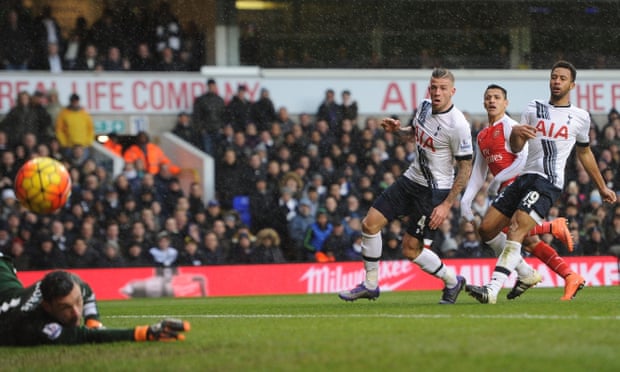 Let's be clear on one point—the Prem title looks like it's Leicester's to lose. They keep finding results by hook or by crook. They're five points clear of Tottenham and eight of Arsenal. As such, it seems for now that we two are squabbling for the scraps left behind by the Foxes. For now.
Back to what's in front of us. Arsenal arrived at White Hart Lane in abysmal form, having taken just seven points from six Prem fixtures and having lost three in Prem matches in a row for the first time since 2010. By contrast, Tottenham welcomed us in on the heels of one of their finest runs of form in recent memory, having won six in a row before losing midweek at Upton Park. On its face, then, this had all the markings of a famous result for Tottenham. The only real question still unsettled was the degree to which Arsenal would have their arses handed to them; mitigating the humiliation would be the order of the day.
Apparently, our lads didn't read the memo. After Tottenham opened the match with 15 minutes of domination and just a few minutes before halftime, Ramsey scored from a cheeky little back-heel, flirting just enough with Lloris's fingertips to entire those in attendance that he'd made the save. 0-1 to the Arsenal. However, early in the second half, Coquelin decided to get himself sent off on the softest of yellows, and Tottenham scored twice inside of two minutes whilst Arsène dithered. The fact that Ospina made the most-vital of saves (confirmed by the narrowest of margins by goal-line technology) did nothing to settle our jangled nerves as he then collapsed, having apparently injured himself making that save.
Long story short: this looked like it would be Tottenham's day.
No one shared that story with Olivier or Alexis, however, and Alexis found an equaliser thanks in large part to Giroud's stabilizing presence in the middle. To go level with Tottenham at White Hart Lane despite being a man down—more and more, it has to feel at both ends as if Tottenham really bottled this one. Going up 2-1 should have broken our backs. It didn't.
I don't know how many other ways one can slice lasagna before it goes to pieces. Every advantage broke Tottenham's way. Hell. Even the sainted Michael Oliver had a mare, sending off Coquelin whilst ignoring far-worse transgressions from Tottenham. How Dier and Lamela escaped second-yellows despite their antics is a question that will join the annals of unanswered questions, sadly.
So we've taken a draw from White Hart Lane. In three fixtures, then, we've managed two draws and one League Cup win (which turned out to be for shits and giggles in the end). Tottenham now cling to that three-point margin with 27 points still available.
Long story short? St. Totteringham's Day is still penciled in. Barely.