Never mind what's going on with Arsenal; this has been a glorious week when it comes to our erstwhile enemies. Not only did Chelsea crash out of the Champions League courtesy of PSG (thanks in some small part to the sale to the same of David "don't call me Sideshow Bob" Luiz), they also crashed out of the FA Cup in ignominious fashion, watching all but helplessly as one-time loanee-
cum
transfer Romelu Lukaku rampaged to a brace to secure Everton's advancement to the semis. Toss in Diego Costa's first-ever red card in the Prem, and we have a
schadenfreude-
sundae that's fit to be served. Of course, all of this and a ticket to the FA Cup semifinal gets Arsenal to the FA Cup semifinal, so let's not get ahead of ourselves. Let's indulge, if only for a little bit.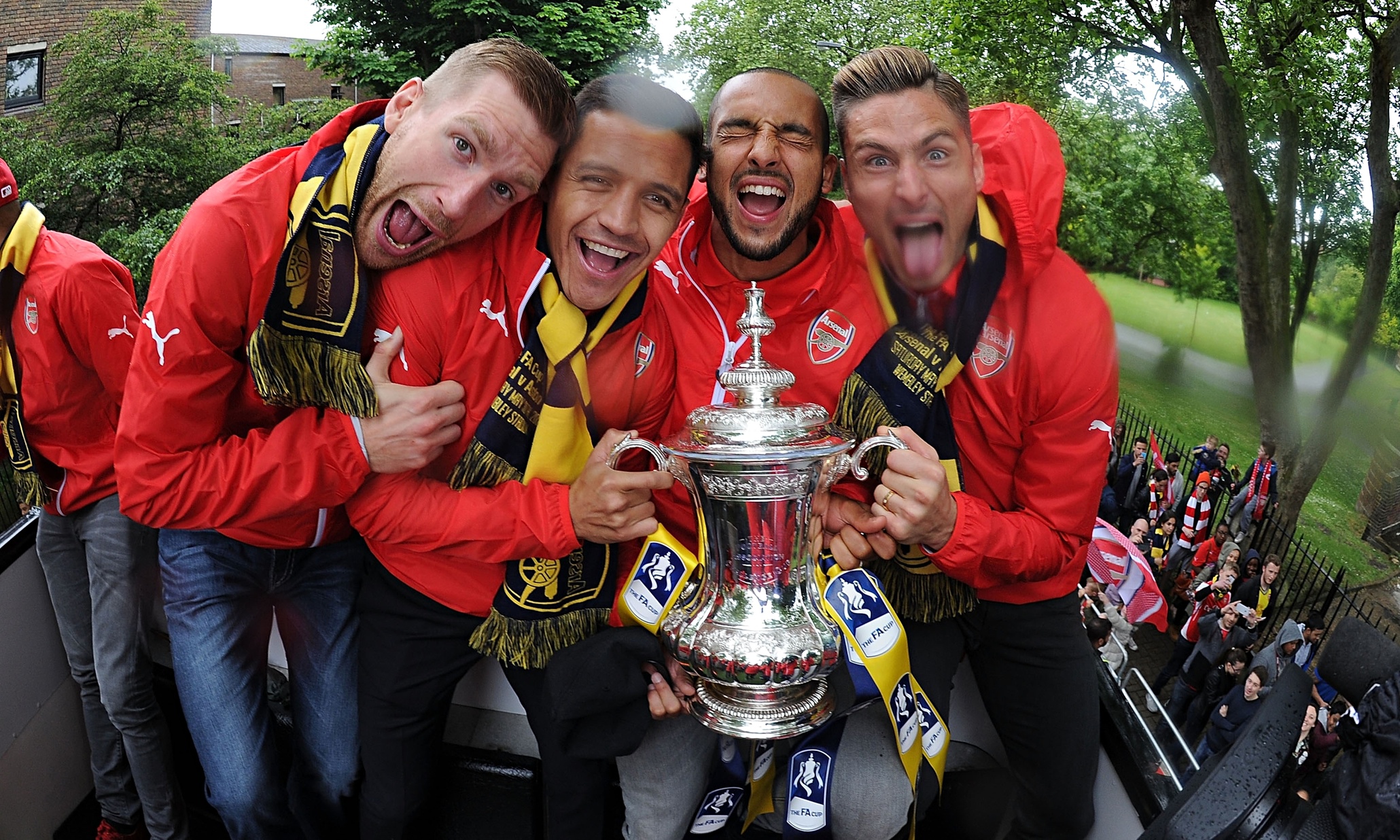 Chelsea have been for quite some time a
bête noire
to Arsenal's better notions, whether it be the
tapping-up of Ashley Cole, the passive-aggressive antics of Mourinho, of the signing of Fabregas. After (admittedly) seeing them ride so high, it's more than a bit delicious to see them laid so low. Even Guus Huddink, who's steered them to a 13-match unbeaten streak in the Prem, can't escape the drain-swirling morass of spit-out toothpaste that is Chelsea's season. Rumours swirl of Antonio Conte replacing him at season's end, and one has to wonder just how much class a manager has to to display before getting sacked. At current rates, there seems to be an inverse-relationship between class and tenure. Exhibit A: Huddink. Exhibit B: Mourinho.
At a broader level, there is some irony in the manner of Chelsea's defeat. Romelu Lukaku, one of a googleplex of players signed and then loaned out by Chelsea, showed his one-time club just what he's capable of when given a chance and when supported rather than derided by his manager. Lukaku's first goal—the game-winner, for those keeping track—laid waste to no less than four Chelsea defenders: Azpilicueta, Ivanovic, Mikel, and Cahill (plus compatriot Courtois). It might just stand as one of the best goals of this season's FA Cup. Even if it doesn't, it still stands in stark contrast against the performance of Lukaku's opposite, Diego Costa. The combustible Brazilian—excuse me,
Spaniard
—registered nary a shot on target but did earn his first-ever proper sending-off in the Prem (as distinguished from the retroactive ones) for necking with Gareth Barry. It seemed for a moment as if he might go for the full Suárez, but he looks to have stopped just short. Perhaps the already Suárez-ed Ivanovic has warned him away from such antics.
Be that as it may, every rose does have its thorn. The downside to Chelsea being dumped from the FA Cup is that it denies us the chance to do the dirty deed ourselves. So it goes. Instead, we'll have to content ourselves with the knowledge that Chelsea are all but guaranteed to miss out on any chance at Champions League qualification unless they can all of their nine remaining Prem matches
and
benefit from Stoke, Liverpool, Southampton, Manchester United, West Ham, and Manchester City dropping points. Anything's possible, but the list of what's probably is quite a bit shorter.
Again, though, none of this is worth anything more than a bucket of warm piss unless we can get past Watford. The deck
is
cleared of one more rival, and we simply have to get to the semifinal. With our own Prem campaign still dangling in the balance and the idea of a treble about as preposterous as ideas come, the FA Cup comes as close to a bird in the hand as we'll find.
As for the match, you can find my official match preview
here
. In summary, we'll face a Watford squad that, like Hull, will likely try to earn a replay or sneak through after sitting deep and hitting on a counter. Against Hull, Giroud and Walcott broke the seal to bag braces; it's Walcott whom I'm pegging to punish Watford. If we can get past the Hornets, we'll be pitted against Everton, Crystal Palace, and the winner of Man U-West Ham. Just three matches stand between us and a third straight FA Cup. No one's done that in 130 years. Chelsea's departure might make the achievement just a bit easier even if it dulls the sheen.
Long story short, Arsenal's quest for history highlights Chelsea's flash-in-the-pan. At a risk of again mixing metaphors, they're out of the frying pan and into the mire.
What are your thoughts? What's it mean for Arsenal to see Chelsea laid so low? Share your thoughts in the comments-section below the fold...