It's truly hard to get excited about West Ham. Unlike the truly detestables—Chelsea, Stoke, Tottenham—and the plucky admirables—Burnley, Brighton, Southampton—West Ham elicits little more than a mild distaste such as one might experience from room-temperature coffee, stale beer, or toilet paper hung in improper underhand fashion. To therefore suffer a draw is irritating, disappointing, or even chafing, respectively. We should have found the three points. In the short run, we failed to do so, but it was not for a lack of effort on at least one player's part. In the long run, the fact that Jack Wilshere played a full 90' for the first time in 577 days should warm your weary heart.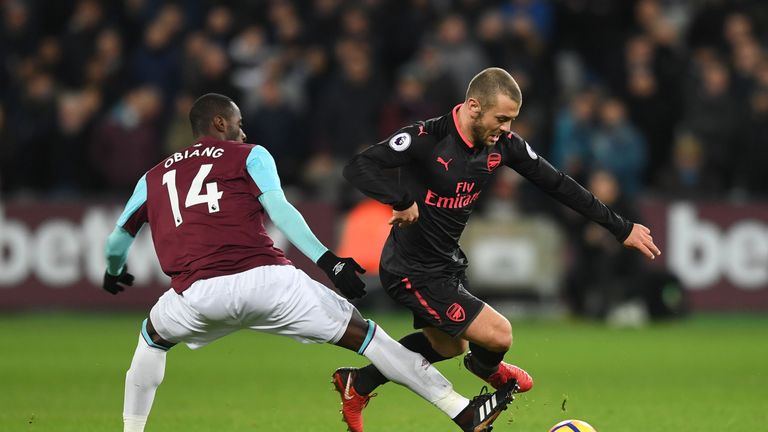 Jack's been brought along slowly, it's true, as he's boosted his confidence and found his fitness while bossing various Europa League matches to the tune of
five
MOTM awards in our own polling, but it's one thing to boss BATE Borisov and quite another to do so in the Prem. Add to that the fact that, under Moyes, West Ham are no longer quite the relegation-fodder they once were. In the last ten days, they very nearly earned a draw at the Etihad, blanked Chelsea for a 1-0 win, and again kept a clean sheet against us. Not too shabby.
Against Moyes's more-organised defensive, a 3-5-2 that looked more like a 5-3-2, we were going to struggle. Moyes sets ups his squads so conservatively that he somehow managed to make Louis Van Gaal look ambitious, even reckless, by contrast. Against big, physical players like Ogbonna, Reid, Cresswell, and Obiang, Arsène was wise to send Giroud out to lead the line. Not only would he grapple with those would-be MMA types, he would create second-chance balls for mates like Wilshere to finish. More on that in a moment.
At a risk of exaggerating, Wilshere showed flashes of the kind of player he might eventually become when he debuted. He was incisive. He was omnipresent. He was assertive. Should he replicate this kind of performance against other Prem teams, we'll start to enjoy more than the process or the build-up; we'll get to enjoy the end-product. There was still some rust, to be sure, but this was still the kind of performance that should remind us of what a fully-fit Wilshere can do—and this was not a fully-fit Wilshere. Still, he elevated the entire squad on a day when many looked like they were willing to merely punch the clock.
This is arguably the most-talented squad we've seen under Arsène in some time. There are world-class players at several positions. There are exciting up-and-comers at others. However, what's been lacking—aside from Alexis's admittedly narcissistic remonstrations—has been a sense of purpose or of passion that enlivens the entire squad. At the most-direct level, both Xhaka and Ramsey have to know that they will at long last have some serious competition. Xhaka in particular will be on notice. If he were a stronger, more-tenacious defender, he could offer a definitive defense of his continued inclusion in the XI. However, neither he nor Wilshere is enough of a defensive force to earn inclusion on that criteria. If Arsène is willing to return to a 4-2-3-1, as he did against West Ham, the weakest link would be Xhaka.
While his skill-set is similar to Wilshere's, Xhaka offers none of that
je ne sais quoi
that Wilshere inspires. When Xhaka is on, a creeping, lingering doubt stalks about: will he make a rash tackle and get sent off? Will he kill off an attack by launching a shot into the peanut gallery? Will he make a foolish pass? Wilshere is hardly innocent of such sins—witness his wastefulness of the second-chance that Giroud served up on a silver-platter in the 62nd minute, the one Wilshere sent into that same peanut gallery. However, Wilshere stands alone in his ability to inspire the fan-base (no mean feat at The Emirates) and motivate the squad.
If he can exert the same degree of influence on future matches as he did today, I will gladly take the two points we dropped on Wednesday.
Wilshere's back. He's brought some passion, some intensity, some purpose, to a squad that has been lacking in all three.
Welcome back, Jack.